With all the changes happening in today's age, it's essential to highlight the importance of education. Since the youth is under the influence of numerous online platforms, quality education is often overlooked. That's why this article will focus on how to brand a college to appeal to next-generation students and investors.
You'll discover all the important aspects of branding and how it can benefit you. Plus, we'll share some creative ideas to make a difference for your students.
Continue reading to learn all about college branding and the services that can help you!
What Is College Branding?
An integral part of college branding is university branding, which highlights the significance of aligning institutional reputation with the distinctive academic and extracurricular experience offered.
It is an essential tool that crafts a specific image, reflecting the ethos and spirit of the university, which is then perceived and recognized globally. As part of this, the university's values, research endeavours, quality of education, and the distinctiveness of its community are effectively communicated.
It is this effective university branding that creates an immediate connection and identification, not only with potential students but also with alumni, faculty, staff, and the broader academic community.
In a dynamic, competitive environment where institutions vie for top students and resources, compelling university branding can serve as a key differentiator, marking the institution as a unique, innovative, and trustworthy place to study and grow.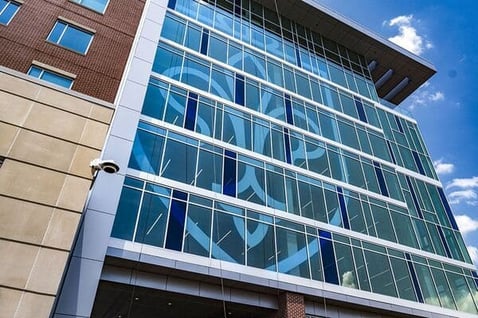 How to Brand a College
After discovering college branding, the next step is learning how to do it efficiently. Know that offering simple brochures or using cliche inspirational quotes doesn't sell anymore. Instead, you should dedicate time and money to grow your brand and make it recognizable.
There are several elements play a key role when learning how to brand a college, including:
Planning Out a Strategy Using Student Personas
The first step for any branding strategy is planning it out through thorough research. Instead of focusing only on the visual appeal, you have to determine what audience it should appeal to.
Take time to evaluate your college's mission. Think about the core values you want to portray and what students you want to attract. Then, start planning your strategy and ensure it's embedded in your culture, faculty, and students.
Moreover, the process of finding the right audience should be based on student personas. This tactic includes segmenting the students based on different criteria, such as:
Geographical location
Age range
Programs of interest
Career goals and ambitions
By mapping out such details, you can easily get in the shoes of the students interested in enrolling and tailor your branding accordingly. This step will later aid in developing your value propositions.
Adapting a Unique Brand Voice
The next step of your branding strategy should be finding your unique tone of voice. Discover what way of communication sets you apart from the competition and works best for your audience.
When deciding on your brand's voice, consider the style, emotional tone, and personality. Remember that there are numerous options you can choose from, including:
Motivational
Humorous or serious
Formal or informal
Optimistic
Assertive
Once you've found the tone that fits your institution, start applying it in every aspect of your branding. Furthermore, ensure the brand voice you chose is for the long run. A strong and consistent tone of voice will help your institution gain recognition and make a long-lasting impression.
Giving Value to Your Message
After determining your student personas and unique brand voice, it's time to give some value to the message you want to portray. Through carefully crafted propositions, you'll be portraying your institution's values and benefits based on the audience's preferences and interests.
During this step, you should determine your college's niche or unique features and emphasize those programs. Whether it's adrenalizing athlete courses or prestigious art classes, see what works best for you and stick to it. Each college has one program that excels most, so you can use it in your branding strategy.
Furthermore, the right value propositions should be aligned with your targeted student personas. Try to reach out by offering career opportunities, outstanding benefits, and unique features. Don't rely on empty inspirational quotes that will make you seem dull and bland.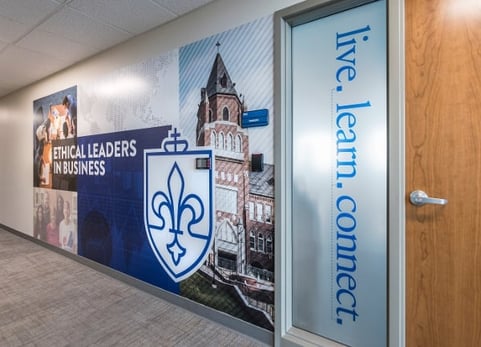 Creating a Strong Visual Identity
You can't have a successful college branding strategy without creating a strong visual identity. It's the design that will mostly set you apart from the competition and which will make your institution instantly recognizable.
There are several key elements that the visual identity consists of, including:
Logo
Color palette
Fonts and typography
Images
If you need help during this process, you can check out some of Craftsmen Industries' services. We provide highly-detailed and unique designs for campus branding, which can't be missed. Our professional team can equip both the interior and exterior with compelling banners, 3D signs, wayfinding signs, and timelines.
So, if you're just starting to brand your college or are interested in rebranding, contact us immediately!
Logo
The main reason why you should create a unique and high-quality logo is because it's attention-grabbing and makes a strong first impression. You don't want it to be too similar to your competition, so ensure you put enough thought into it. A logo can also be used as the foundation of your brand's identity and to foster brand loyalty.
Color palette
Color palettes are used to maintain branding consistency and are also part of the visual foundation. Its main goal is to appear aesthetically pleasing to the audience and leave a long-lasting impression.
Furthermore, it delivers the brand's tone and mood while also impacting the consumer's behavior.
Fonts and typography
The brand's font and typography are used as a non-verbal message that ties all the communication together. It further solidifies the branding consistency and represents a distinguished memorable element. By arranging the text in an interesting and engaging way, you'll spread your message creatively.
Images
One of the best storytelling practices is using images to visually showcase your success. Using on-brand photography is another creative way to present your values and highlight the students' experience on your campus.
However, always use a consistent visual style, ensure the image's quality, and be mindful of your representation.
Creating a Comprehensive and Consistent Style
After devoting so much time to your branding strategy, it's of utmost importance to be consistent with it. Don't make any unnecessary changes since they will only slow you down. The whole point of branding your college is that you can later showcase your style throughout various platforms and channels.
So, make use of what you've created, and don't give up. Maintain your chosen aesthetic through various portals and content, whether it's your school uniform, website, or newsletter.
Analyzing Performance and Tracking Your Competitors
Last but not least, you shouldn't overlook analyzing your performance and competitors. Ensure you're always up to date with the latest trends and informed about the newest technological advancements. This way, you'll not only provide better results for your brand but also provide your students with the best quality education.
Remember that the marketing process is always evolving. Tracking your competitors can keep you in the loop and inspire some fresh ideas out of you. Thus, focus on the values they showcase, the experience they offer, and what actions they're performing to gain better exposure.
Benefits of a Successful College Branding
Investing time and money into growing your college brand doesn't come without a reward. Besides the enhanced experience for your student, this process has several other benefits.
Some of them are:
Attracting new students - The main goal of every educational institution should be attracting new and bright minds to join them. With quality branding, you'll be more appealing to the students looking for the right place to continue their education journey.
Enhanced credibility and reputation - Trustworthiness and positive reviews will help you become one of the top choices for students.
Solidifying your place on the market - With unique and creative branding, you'll stand out from the competition and become a leading figure in the industry.

Gaining loyalty

- Keeping up with consistent branding will slowly result in building a loyal community around it.
Conclusion
Branding your college institution takes a lot of thought and planning. While most people think that visual identity is the main goal, it still has to be backed up by thorough research. So, ensure you've found your target audience, determined your unique values, and chosen the suitable brand voice.
Once again, if you find yourself stuck during the process, feel free to give us a call! Craftsmen Industries will find the perfect solution to all your problems.
Ultimately, we hope this article has helped you discover how to brand a college, and we wish you success in your branding process!