When it comes to your business advertising, you should explore all options and try different methods. One of the best ways to reach a broader target group with one advertising strategy you will come across is to use fleet wraps on vehicles. But are fleet wraps durable?
Let's find out what factors influence the longevity of fleet wraps, what you can do to increase your ROI, and why you should choose us for your fleet wrap projects.
How Long-Lasting Are Fleet Wraps?
Generally, well-made and professionally installed fleet wraps can have a lifespan of three to seven years. The most realistic and common scenario is that, on average, vinyl wraps last around five years.
How much the fleet wraps last in your specific case depends on how often you use the vehicle. For instance, vehicles driven daily on longer roads that are constantly exposed to the sun might show signs of wear and tear after two years.
On the other hand, the wraps on vehicles that are lightly used and properly taken care of might last seven years or longer.
Overall, vinyl wraps are durable. However, you must choose a contractor that offers high-quality materials and works according to the latest standards. Also, there are actions you can take to increase their durability.
Most Durable Material for Fleet Wraps
The most common material used for fleet wraps and the most durable is vinyl. There are different types of vinyl, but the best ones are cast and calendered vinyl.
Furthermore, the materials' quality, thickness, and strength can differ between manufacturers. Thus, you should know how to choose the best wrap for your business.
Generally, high-quality vinyl wraps are durable, offer stability, and are easy to remove and maintain. Also, they come in three different finishes so that you can pick one according to your preferences.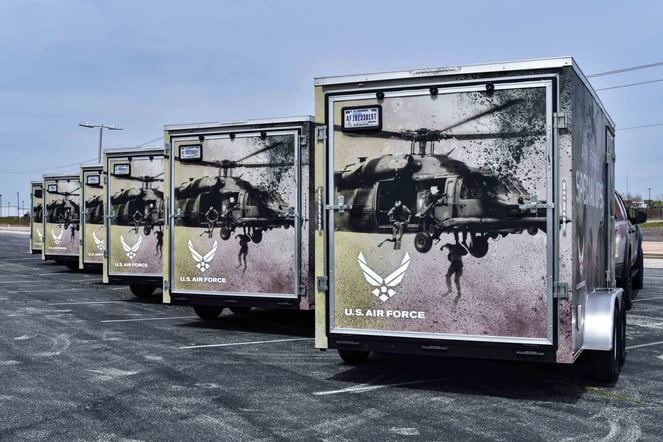 Factors Influencing the Durability of Fleet Wraps
The durability of fleet wraps is influenced by factors such as weather conditions, climate, and exposure to harsh materials like pollutants and abrasive particulates.
Weather conditions
Are fleet wraps resistant to damage and fading? Many regularly ask this question. Unfortunately, nothing can stop the influence of environmental factors.
Extreme sun and UV rays exposure negatively influence the durability and robustness of fleet wraps.
Climate
In addition, the climate in your area directly affects the fleet's durability. More specifically, the best climates for fleet wraps are mild ones. If your business is located in a mild climate, you can expect to get the most out of fleet wraps.
On the other hand, dry and hot areas reduce the performance of fleet wraps.
Pollutants
A high concentration of pollutants and particles can also reduce the lifespan of vehicle fleet wraps. If your business is located in a highly polluted area or the vehicle is driven in urban and congested areas, the fleet's durability might be reduced.
Abrasive particles
Debris that can damage your fleet wraps comes in different forms. The most common are dust, excessive sand, and road salt. All three of them might be highly abrasive for your fleet wraps and might scratch them or cause erosion.
How to Increase the Fleet Wraps Durability
There is a significant difference in using the fleet wraps for two and seven years. Understandably you should do everything you can to make your money's worth.
Here is what you can do to increase the fleet's durability.
Choose a reputable manufacturer
The first thing you should consider when you wonder, "Are fleet wraps durable?" is who installed them? Not all manufacturers use the same quality wrap and installation technique, promoting robustness, resilience, and endurance.
Hence, knowing how to choose the best wrap for your company might increase the durability of the fleet wraps.
Prepare the vehicle
Once you have a manufacturer and installer in mind, you should prepare the vehicle for vinyl wrapping. Typically, the better you prepare your vehicle, the better and smoother the end results will be.
Take proper care
Next, you must take proper care of your fleet wraps. In a nutshell, you should clean them frequently with soap and water. Remember that taking care of your vehicle wrap in winter is slightly different than in other seasons.
Also, you should regularly inspect the fleet wraps. Check if they are peeling, fading, or have cracks. If you notice some of these signs of wear and tear, don't take measures into your own hands because they need to be repaired by a professional.
Lastly, try to park the vehicle away from direct sunlight as often as possible. As we previously explained, constant exposure to direct sunlight might cause the wrap to fade.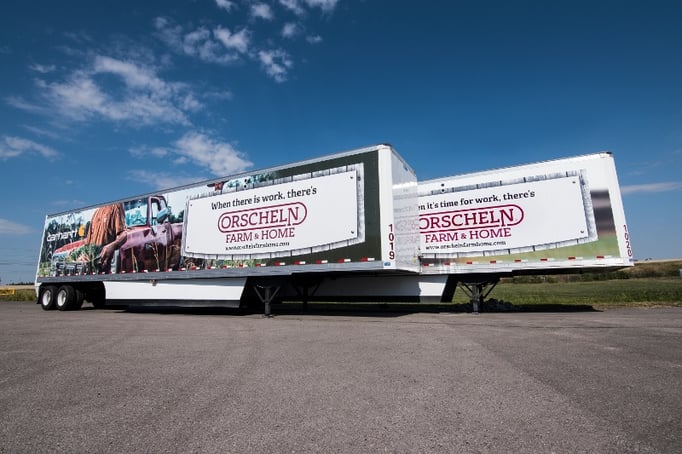 Which Vehicles Are Best for Business Fleet Wrap?
For the right company with high expertise, there is no such thing as good and bad vehicles for fleet wrap.
If you choose to give us your trust, our dedicated and expert team in Craftsmen Industries can turn any type of vehicle into a moving advertisement.
We can install high-quality vinyl wraps for small vehicles to large vans and trucks. What's important is to create a design that will bring results.
We can offer you solutions with the best visibility.
Benefits of Fleet Wraps
There are many reasons why your business should invest in fleet wraps. Some of the benefits you will enjoy are:
Increasing brand recognition with unlimited exposure.
Way to effectively advertise your business and have more customers from different backgrounds hear about your brand.
Extra protection of your work vehicles.
Possibility to generate additional leads and sales.
Advertising with your existing assets instead of investing in new ones.
Easy to remove and to be changed when you have different products/services to advertise.
Affordable advertising method that doesn't require much effort and monitoring.
Why Choose Craftsmen Industries for Your Fleet Wraps?
We at Craftsmen Industries have over 40 years of experience in fleet wraps, experiential marketing, industrial fabrication, and other services. Our core values are to bring the best quality to our clients by understanding their needs.
Your business should consider working with us for your fleet wraps mainly because of our adaptability, support, certification, and possibility to install fleet wraps on all types of vehicles.
Certification
If you choose us for your mobile advertising project, you can rest assured you are leaving the vehicle in the hands of experts.
We are a 3M™ Certified Graphics installation company and have two certifications; one is by the Professional Decal Applicators Association, and the other is by the United Application Standards Group.
Adaptability and support
We offer universal services, and different types of businesses have turned to us for a vinyl car wrap. Craftsmen Industries offers more than just the installation of fleet wraps.
With us, you will get support from start to finish. We can help you find the perfect solution that will increase your brand visibility in a creative way.
Our Craftsmen can help you with templating, color matching, and the best branding solutions.
Fleet wraps for all types of vehicles
There is no challenge our certified experts can't do. We can get the job done whether your vehicle is a small car or a 53' expandable trailer.
On top of that, we will help you pick the most suitable fleet wrap according to the vehicle and goals you want to achieve.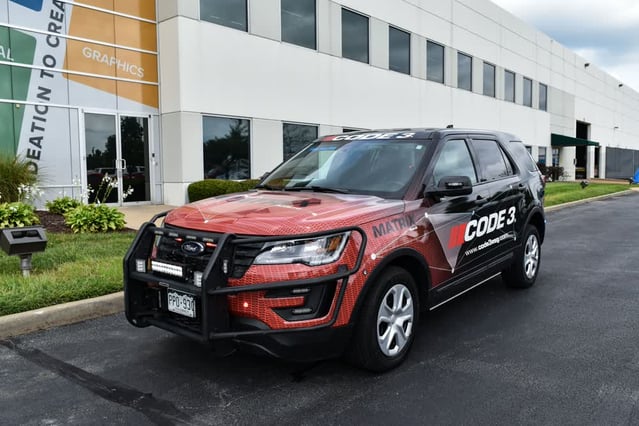 Frequently Asked Questions
Do car wraps tear easily?
High-quality vinyl wraps are typically resistant to minor scratches. The vinyl wraps are durable and robust, making the material resistant to everyday wear and tear.
Is wrap stronger than paint?
Generally, vehicle wraps last longer than paint. Additionally, vinyl wraps are quicker and easier to install, require minimum maintenance, are affordable, and protect the vehicle's resale value.
Are car wraps good for marketing?
Vehicle wraps are excellent and long-term marketing solutions for your business. Car wraps are subtle but effective, offer great exposure on the move, are cost-effective, and easy to change when needed.
Do fleet graphics endure wear and tear?
Yes, fleet graphics might show minimal signs of wear and tear because the material is exposed to exposure like sun and regular use.
However, the life of fleet graphics can be prolonged with proper care and maintenance.
Conclusion
Learning how much it will last is important when investing in something for your business. So, are fleet wraps durable? Many business owners are asking that so they can make an estimate for their return on investment.
If you want to increase the fleet wrap longevity, choose a professional team to install them, like us at Craftsmen Industries.
After we are done with your project, your job will be to properly maintain them and protect them from factors that can influence their durability.