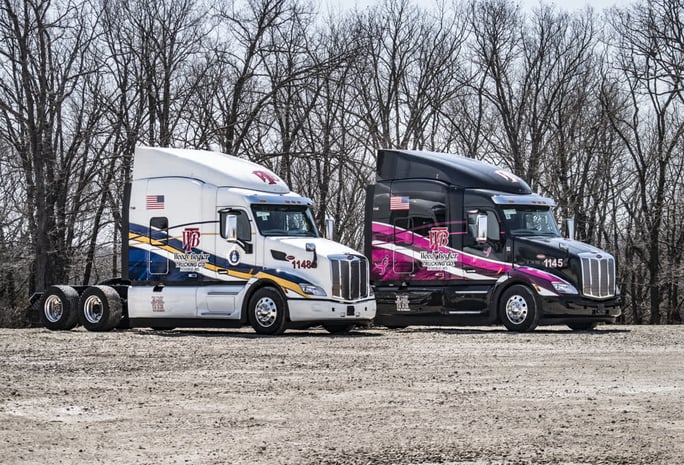 If you're deciding which marketing tools to invest in for your business, consider bright, attention-grabbing fleet graphics. By advertising a company's logo and messaging, fleet graphics can increase brand awareness. Graphic wraps are made from durable vinyl, and no matter the size of your company's fleet, they can make a significant advertising impact with minimal investment.
Reasons to Invest in Vehicle Fleet Graphics
1. Cost-Effective Advertising
When you compare the cost of creating custom wraps with other forms of traditional advertising, vehicle fleet graphics are an inexpensive option. This fact becomes especially important when you look at the exposure wrapped vehicles can generate.
One vinyl-wrapped vehicle could get up to 80,000 mobile impressions daily, depending on the area and distance driven. You can expect more impressions in a bigger city than in a small town, but this is true for any form of public advertising.
2. Highly Visible
A custom vehicle wrap stands out on the road. We expect to see billboards and storefront signs, and while vehicle fleet graphics are gaining in popularity, they are still rare enough that they catch the eye of pedestrians and other drivers. A well-designed vinyl wrap is a very effective method of reaching a broad audience.
3. Mobile Billboards
The strength of fleet graphic advertisements is in mobility. Think of your company's vehicle fleet as a team of mobile billboards. Target specific events or areas in the community, and split the fleet up to advertise to multiple locations at once. Considering the cost of one traditional billboard that stays in place, the advertising potential to reach more people increases significantly with a mobile fleet.
4. Memorable
One custom vehicle wrapped in a company's brand logo and colors is a memorable piece of advertising. A fleet of custom vehicles helps to build brand consistency and will undoubtedly stick in the minds of potential new customers.
5. Durability
High-quality wraps are made from durable vinyl that can survive the elements. A custom vinyl wrap will look sharp for years. However, if you wish to promote a new design or time-sensitive messaging, the low cost of production will allow you to replace the vinyl wraps with new ones easily.
Applying a layer of vinyl to your company vehicles also protects the vehicle itself. Fleet graphics function as advertisements and keep the vehicle's paint job safe.
6. Highly Customizable
Vinyl wraps can be printed with any custom design. Whether you wish to change the vehicle's color without paint or add brand logos, graphic imagery, or textual messaging, a wrap can be printed and applied to vehicles of any shape or size.
7. Perfect for One Car or a Fleet
Whether your company is small or large, fleet graphics are a great advertising tool. Consider custom vinyl wrapping if you have one company car or an extensive fleet of different vehicles. Vinyl graphic wraps are even an option if you rent or lease a vehicle, as the vinyl will protect the paint job while in use and can easily be removed when you're ready to trade it in.
How to Get the Most Out of Your Vehicle Wraps
An excellent graphic design isn't enough to help you reach your marketing goals. Consider these tips to ensure your custom fleet graphics bring you the best possible return on investment.
1. Legible Messaging
Remember that simpler is better if you choose to use text on your vehicle wrap design. Any lettering or numbers will need to be read at a distance. Stick with easily understood, clear fonts, and keep messages short and to the point. The most impactful messaging added will be a call to action. Consider what you want viewers to do. Some of the most common messages include "Give Us a Call," "Visit our Website," "Follow Us on Social," etc.
2. Color Matters
Color choice on vehicle graphic wraps matter not only for brand recognition but also for clarity. Some colors create more contrast than others. If you're using text, be sure that the text font color stands out against the background colors.
3. Careful Vehicle Measuring
Every vehicle make, model, and year will have different dimensions. Be sure to carefully measure every area of a vehicle's surface before designing. If you don't feel confident creating the design yourself, hire a professional. As a vehicle is not a flat surface, care must be taken to ensure that all logos and messages aren't hidden away in the curves and seams of the car, van, or truck.
4. Track Progress
After making a marketing investment, it is crucial to keep track of progress on the campaign. One way to track the impact of vehicle fleet graphics is by creating a specific URL or QR code that leads to a new landing page on your company website. This will allow you to keep track of all new traffic coming from the custom vehicles.
Fleet wraps are beneficial to a company's marketing strategy in many ways. The low-cost initial investment, ease of replacement, mobility, and advertising reach make them an excellent choice for any organization, big or small.