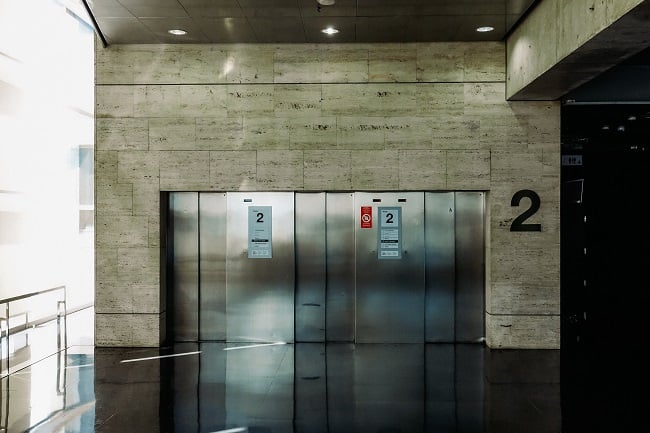 (Izhak Agency/unsplash)


Every store should be easily navigable and safe for all visitors and customers. Including the requirements set forth by the Americans with Disabilities Act when designing your signage is crucial to helping all customers feel welcome and comfortable in your retail space.

ADA Compliant Signage is even more important for businesses and buildings with elevators. Elevators present additional safety hazards, especially to visitors with impaired visibility, mobility issues, or in wheelchairs. To ensure that your store is safe for everyone, elevator signage must be legible, include high-contrast design elements, tactile and braille lettering, use recognizable symbols, and be placed at heights easily viewed by customers in a wheelchair.
What is ADA Compliant Signage?
ADA compliant signage is designed and mounted in compliance with the Americans with Disabilities Act guidelines. It is a federal law that businesses provide accommodations to those with disabilities, including posting accessible interior signage.
The ADA regulations apply to various signs throughout a store or building. These signs include directional, informational, and room-identifying signs, as well as those placed in and around areas such as elevators.
What are the Benefits of Posting Compliant Elevator Signs?
Designing and installing helpful and compliant signs in and around an elevator is essential for multiple reasons.
● Compliance with Federal Laws
Posting elevator signs that adhere to ADA requirements helps your business comply with federal regulations. Any buildings open to the public will need to have ADA compliant signage. Following requirements closely can also save your company money, preventing ADA-related fines. Investing in high-quality interior signage from the start will result in spending less money on sign repairs and replacements over time.
● Customer and Staff Safety
Elevator signs can help keep customers and staff safe. This fact is especially true in an emergency. In a fire or other emergency, it is crucial to ensure that clear, helpful signage is already in place. "In Case of Fire" signs are vital for any business with an elevator to help direct customers to alternative exits should a fire occur. In the chaos of an emergency where there is little time for verbal communication, having clear signage should alleviate panic.
● Creating an Inclusive Environment
Compliant signage is for more than just emergencies. For many individuals, easy-to-read elevator signs are vital for everyday usage. While following ADA compliant regulations ensures your business follows the law, it also demonstrates inclusivity towards all community members. All customers, visitors, and staff should feel welcome and respected. Posting clear interior signage to ensure everyone's comfort and safety is an easy step in the right direction.
What Signage is Necessary for Elevators?
While ADA compliant signage covers many different areas, elevators have their own regulations.

<
● Door Jamb Signs
On each floor, the elevator door jamb must have clear signage on either side indicating the floor number. The number must be raised and tactile, stand at least two inches high, and include the braille. For buildings with more than one elevator, each must also have an identifying number clearly marked. Ground floor door jamb signs must include a star symbol two inches high and the word "main" written in braille.
● Control Panel Signs
Every elevator has an interior control panel with numbered buttons for floors, door operation, and emergency contact. Control panels must have braille lettering under each button number. Most elevator control panels now come with this standard option, but ensuring all ADA requirements are in place before your building or store opens is crucial.
● Exterior Elevator Identification
Visitors and customers will need to locate and identify the elevator. Outside an elevator in any building, a compliant sign should indicate that this is indeed the elevator. The sign must have a clear font and accompanying braille and should also include an image or icon. If the elevator is handicap accessible, it should also include the accessibility symbol.
● Emergency Signage
As mentioned, emergency signage is vital for any public elevator. "In case of fire," signs are probably the most important. Many emergency elevator signs will also include imagery for easier understanding. For example, a well-used pictogram consists of the symbol of a person going down the stairs with fire behind them.
Failing to adhere to ADA compliant signage regulations can have serious negative impacts on your business. One consequence is that your company may face significant fines of up to tens of thousands of dollars.
However, the potential impacts on your community are far more damaging than the fines and penalties. Not following compliance requirements demonstrates a lack of interest in providing inclusive accessibility. This decision may leave many customers and potential customers feeling disrespected and uninterested in returning. A lack of compliance could also result in a negative brand reputation, customer or staff injuries, and even lawsuits. For any business with an operating public elevator, the best solution is to ensure ADA compliant interior signage right from the start.