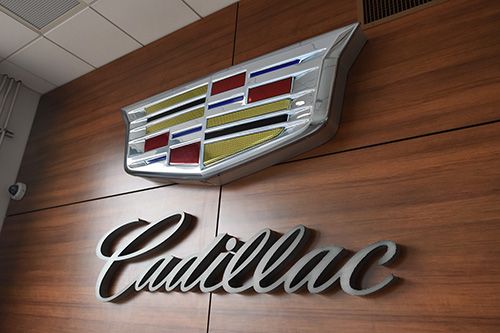 A storefront sign is of the most important early investments a company can make. Usually the first sign your customers see, it should be attention-grabbing, with a professional and attractive appearance. It will need to be seen and understood from a distance, directing potential customers to your business.
Dimensional signs add a unique element to storefront signage, and halo lit dimensional signs can add even more interest and appeal, making an excellent first impression.
What is a Halo Lit Dimensional Sign?
Halo lit signs are lightweight dimensional signs usually made with aluminum or plastic. They are similar to traditional channel letter signs but lit from behind and around the letters, which gives the impression of a glowing halo effect.
To achieve the illuminating halo effect, the sign's lightweight face is mounted onto a standoff, separating it from the wall, and lights, typically LED, are placed between the sign and the wall. The internal lighting then projects onto the wall behind it, creating an attention-grabbing effect.
Benefits of Halo Lit Signs
1. Unique Appearance
Halo lit dimensional signage has a unique appearance compared to a typical lettered sign. The halo lighting effect is also referred to as reverse lighting due to the illumination coming behind the sign instead of from the front. This effect gives life to your sign, giving the impression that it is glowing. A halo lit sign will stand out from other signs in the area.
Adding colored or blinking lights can add special effects to your signs. For example, a pizza business may want to use red lighting to imitate a glowing hot oven. You can even change lighting colors for the seasons, such as green and red blinking lights at Christmas, or branded colors to mark grand openings.
2. 3D Dimensional Effects
A three dimensional sign will attract more attention than a flat, traditional storefront sign. Halo lit signs only add to the effect. Most halo lit signs are made from channel lettering, which is mounted away from the wall and gives storefront signs depth. The 3D dimensional effect also increases sign readability at a distance, which is important for passing pedestrians and drivers.
3. Visibility
When potential customers are looking for your business, you want your sign to stand out and be easy to find. Halo lit channel letters provide excellent visibility. The 3D appearance and the halo lit effect will get attention for your storefront sign. Many cities and neighborhoods are crowded with signs and lights, and the more unique the sign design, the more likely it'll stand apart from the rest.
4. Low Cost
Halo lit dimensional signs are a low-maintenance option. The sign frames are built to withstand weather conditions. Even in harsher climates, your aluminum or plastic storefront sign will not rust or deteriorate. LED lighting is more energy efficient, making it is easier on your electricity bill. And with a longer bulb life, you will not need to replace them often.
5. Versatile
There are many possibilities for design with halo lit channel signs. For lighting options, LED is popular, but neon can also be used. Channel letter sign faces can be made from aluminum, plastic, or heavier, sturdier steel. Utilizing different lighting effects, such as blinking, colored lighting, varying brightness levels, or combining halo lighting with front lighting, will add variety to your dimensional sign.
Best Practices for Halo Lit Signs
1. Design
Consider bright, high-contrasting colors to call more attention to your sign. Whatever color you choose for halo lighting, the colors of the lettered sign should contrast to stand out. The size of the sign is also important and will depend on the space. Too big and it will look out of place; too small and you will lose the effect.
2. Installation
A halo lit dimensional sign looks best on a flat wall. An uneven or corrugated surface will distort the effect of the lighting. If your store's exterior wall is not flat, you can add a backer panel to the sign to create a flat surface to improve the lighting.
3. Businesses to Benefit
Most businesses can benefit from halo lit dimensional signage. However, the effect works best for businesses that stay open after dark. Some examples of companies that could benefit the most from halo lit dimensional signs include restaurants, bars, many retail stores, and hotels.
Halo lit dimensional signage is becoming more popular as businesses look for more ways to stand out. Channel lettering signs give a striking 3D look to the front of a store, and halo lighting adds another dimension. Talk to a trusted storefront sign manufacturer about the best options for your business.