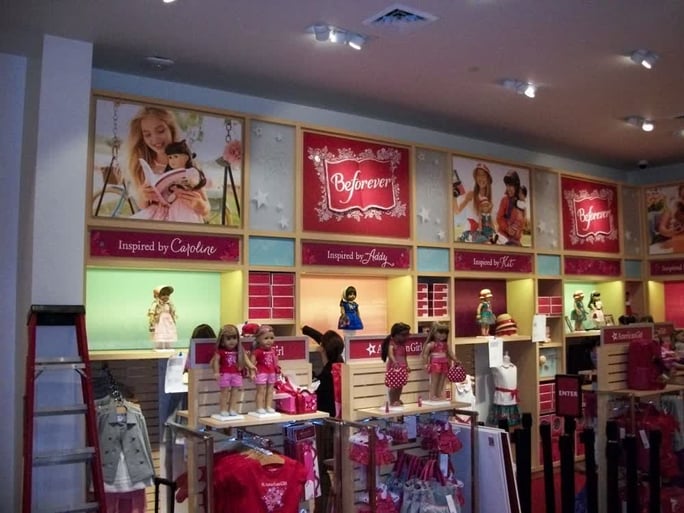 It may surprise you that a retail store's visual appearance has a significant impact on sales. Adding well-designed graphics and signage can elevate the look of a store's interior, highlight product displays, and deliver information about promotions or product features.
In-store graphics come in many forms, including wall murals, vinyl banners, floor graphics, storefront signs, window graphics, and backlit displays. The more attention-grabbing and informative, the more likely a customer will make a purchase.
Benefits of Signage
Retail signage can add a lot to a space and help boost your bottom line. Here are some of the advantages you may see after installing well-designed signs.
1. Store Décor
The more visually appealing the retail space, the better the customer shopping experience will be and the higher the likelihood they will return. in-store graphics can include decorative wall murals, and window and floor graphics that add to the interior décor.
2. Promotional
Use signage and graphics to promote specific services or products. Well-designed and well-placed signs can make products you wish to promote more visible and make it easier for customers to find what they want.
3. Informational
Informational signage placed around a retail space can help educate customers on important information about the store or highlight specific products, services, or brands. Consider adding graphics that include details about reward or membership systems, social media accounts, opening hours, and contact information.
4. Product Display
Retail graphics can draw customer attention to specific promotional products or be used to organize merchandise aisles and displays. Place store graphics and signs above aisles or on product shelves to indicate what customers will find in each section.
5. Branding
Consistent signage and graphics that include brand colors, logos, and messaging can increase brand awareness and recognition. Place branded signs representing your retail store throughout your space. When creating promotional signs for specific products, you should also include recognizable branding from the product. Highlighting known brand names and logos helps to build customer trust in your store.
6. Cost-Effective
In-store signage is a relatively inexpensive marketing tool. It can help to promote a retail brand, product, or service for a significantly lower investment than other forms of advertising. Increase revenue by promoting products with high-profit margins.
7. Impulse Buys
How many times have you been swayed by a promotional sign at the checkout counter? Having well-placed retail graphics throughout the store, especially at the checkout counter, can help to increase impulse buys for in store customers. in-store signs can also help with upselling, subtly encouraging customers to add on to their purchases.
Design Tips for In-store Graphics
Keep these design tips in mind to get the most impact out of your retail graphics and visual merchandising.
1. Know Your Colors
Color has a lot of impact on graphic design. Colors can be associated with moods and emotions, and specific colors can help to encourage actions, such as making a purchase. For example, red is associated with activity and urgency, while blue promotes calm.
For promotional graphics, primarily use brand colors. However, you can utilize some more variety for seasonal or holiday promotions. Obviously, red and green are popular for Christmas promotions, and pink and red for Valentine's Day.
2. Include Icons and Visual Clues
Certain icons and symbols are universally recognized, and others can provide hints about the messaging and purpose of a sign. When designing in-store graphics, include visual clues alongside text to help get critical information across.
3. Keep it Simple
Store signage needs to be read and understood quickly and from a distance. Keep messaging short and simple and stick to the main points.
4. Use Clear Fonts
Promotional and branded signs may be limited to brand-specific fonts, but any fonts used on signage needs to be clear and legible. A cursive font might look great in your design, but it needs to be quickly understood, or it is not a good sign. A sign's primary purpose is to convey important messaging.
5. Include a Call to Action
The best retail signs not only share informational or promotional messages but also include a call to action. Popular calls to action include phrases like "buy now," "sign up today," "buy one get one free," or "follow us on social media." The right call to action will depend on the purpose of the sign.
6. Don't Forget the Checkout Counter
As the checkout counter is the perfect spot to encourage impulse buying and upselling, remember to include checkout counter signage in your marketing strategy. Promoting low-cost items with high-profit margins in such high-traffic areas can help to increase last-minute purchases.
Retail graphics are a low-cost marketing option that improves a retail space's appearance, conveys essential information, and helps to increase sales. Well-designed signage enhances the customer experience and builds brand loyalty to keep customers returning.