Large format printing is a delicate process that requires thorough planning and precise execution. Even the smallest mistake can lead to undesired and flawed results. So if you're a business owner that wants to incorporate this type of printing in their marketing strategy, you must prepare beforehand. That's why in this article, we want to explain how to design for large format printing to ensure the process goes without any setbacks.
During this guide, we'll explain the basic concept of large format printing, what goes on behind it, and the important details to create a suitable design. By understanding the creation process, you'll know what to focus your attention on to avoid any issues. Additionally, you won't have to spend valuable time and money on an inadequate design that could hurt your business.
So let's dive into the importance of a good layout, how to achieve eye-catching aesthetics, and further improve the styling. Continue reading to discover the details of creating designs suitable for wide-format printing and how you can benefit from them!
What is Large Format Printing
Before diving into the design aspect of large format printing, you must first understand its concept. This type of marketing strategy is known to be a flexible, successful, and low-cost advertising option. As the name implies, it involves the process of printing large-scale formats and designs.
With various choices available, our expert team can create mesmerizing designs in the form of banners, wall murals, and fleet wraps. Furthermore, there's a wide selection of materials and styles different businesses can pick from, suitable for both indoor and outdoor environments. That's why large format printing works wonders when you want to catch attention from afar.
So if you're looking for Large Format Printing Services, contact our professional team today! Not only does Craftsmen Industries offer impeccable quality, but you can also expect the following:
Unparalleled branding solutions
Custom templates
Flawless color matching
Certified installation
Recognized as a G7 Master Printer facility, Craftsmen Industries can most accurately reproduce your logo, brand color, and predesigned file. Praised for our unparalleled customer service, we always devote our time to bringing the best quality results. And with all the rigorous certification on our side, you'll know you'll be getting your money's worth.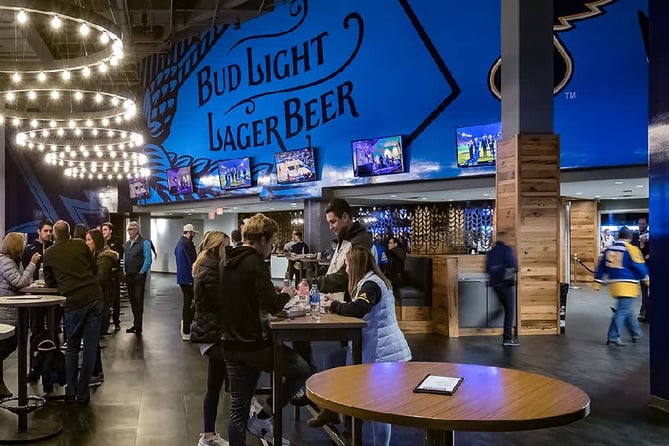 Step-by-step Guide on How to Design for Large Format Printing
After learning about large format printing, the next step is to educate yourself on the process of designing for large format printing. As mentioned, this delicate process requires precise planning and flawless execution. Failing to follow strict design guidelines will result in a low-quality product.
Since this type of printing represents visual communication with your potential customer, there's no place for errors. Trying to reach more customers with an inadequate design could only hurt your business in the process.
That being said, the key steps in designing graphics for large-scale prints are the following:
Choosing the right design software
Focus on color management
Know your fonts
Including your brand identity
Choosing the correct resolution
Choosing the correct file format for printing
Choosing the right design software
The first step in designing graphics for large-scale prints is choosing the right design software. Since many options are available, you may have a hard time picking the best suitable for the design. Regarding large format printing, it's best to use vector-based software to ensure the quality of the graphics.
The main reason vectors are more suitable than pixels is due to the scaling process. While pixel-based designs have a high chance of getting pixelated when scaled, this doesn't occur with vectors. Thus, using design software like Adobe Photoshop can result in blurry images due to the limited number of pixels.
The second reason most people turn to vectors is the smaller file size. This comes in quite handy when you have to create a large format print that requires more space. So if you're contemplating between Adobe Photoshop or Illustrator, we highly recommend you choose the latter.
Focus on color management
The number one requirement for any successful design is knowing your color pallet. You can't expect a premium design with mesmerizing graphics if your colors don't work together. Not only will choosing the wrong colors lower the quality of the artwork, but they may also drive the audience away. Some may even find the design spammy or unprofessional, which will only turn them away from your business.
Thus, always choose compatible colors when you start working on your design. You can find various color pallet options online if you haven't had the chance to design something yourself. Even though it may take years to master color theory, you don't need to be an expert as soon as you start out. All that's important is for your chosen colors to be aesthetically pleasing when combined.
That's why it's best to start things simple. Choose two or three colors you'd like to try out and use them in your design. This will enhance your brand identity and ensure a better impact.
Even though the RGB colors may seem tempting due to the variety, we highly recommend you skip them. Most printers use CMYK mode and will adjust the colors themselves.
Know your fonts
The next key factor in preparing visuals for printing in large format is choosing the appropriate fonts. If you want your design to include text, you must always ensure it's clearly visible and readable. Besides making the letters aesthetically pleasing and eye-catching, the viewer must be able to read the text to understand what your business offers.
While you may find complex and artsy fonts unique, choosing a simple and less-detailed one works best for large format printing. By choosing an easily readable fontdesign, the printed words can be read even from a further distance. This way, the message you're portraying can be read quickly and without difficulty.
If you want to incorporate a font in your design successfully, always have the whole picture in mind. Using a bold style can make your text look overcrowded, while thin text styles in the design may not appear as effective as you thought. But using normal size letters with enough space between them will ensure the text stands out.
Lastly, we always encourage our customers to use font colors compatible with the overall design. Thus, ensure the colors work with the rest of the composition to create a truly attention-grabbing result.
Including your brand identity
Including your brand identity in the design will highly benefit you. Try using your logo, brand colors, and tone of voice throughout the graphics. While these elements should be subtle, they will make you stand out from the competition.
Furthermore, the presentation of your brand alongside your offer will help you get more brand awareness and recognition.
For your logo, you should place it in a spot where it doesn't interfere with the visualization. Most brands tend to choose top or bottom corners to be eye-catching and out of the way from the other elements.
The brand voice can be used in the text you want to be displayed. Try to explain what you have to offer with as few words as possible. Short and witty phrases often work best for any audience.
Lastly, the brand color can predetermine your color palette. If you've already crafted a strong and aesthetically pleasing look for your business, you can use the same colors in the design. But don't forget to not over-clutter the design with too much vibrant color that'll make you look unprofessional.
Choosing the correct resolution
Another important factor when designing for large format printing is choosing the right resolution. These numbers are highly based on the viewing distance you have in mind. Since you're going for a large format print, you have to create a clear design so the viewer can properly interpret it.
That being said, here are the most compatible resolutions you can use depending on the viewing distance:
4 feet: 100 dpi at full size
4 - 12 feet: 72 dpi at full size
Over 12 feet: 36 dpi at full size
Choosing the correct file format for printing
The finishing step for designing graphics for large-scale prints is choosing the appropriate file format for printing. Once you've finished the design, you may be eager to send it to the printing service for faster results. But many companies don't realize that by rushing the process, they often forget to save the design in the correct file format. Not only can this cost you more time, but it'll affect your investment as well.
While vector files like .AI and .EPS are one of the best options, you can always double-check this requirement with the printing service. If you choose Craftsmen Industries, not only can we inform you of the correct file format, but also explain all the needed requirements.
Conclusion
After discovering how to design for large format printing, ensure you follow this guide for your next printing process. As mentioned, this delicate process requires attention to detail and careful planning to achieve the best results. So take the time to decide on the color pallet, fonts, and how to successfully include your brand identity.
You should also choose the correct design software and ensure all the technical aspects are taken care of. Never forget the importance of the resolution and file format to avoid any more serious issues during the printing process. Lastly, you can always rely on a professional printing service to guide you through the process.
So if you ever need large format printing services, contact Craftsmen Industries to ensure you get the best possible results. Our expert team will happily come up with the best solution for your ideas!