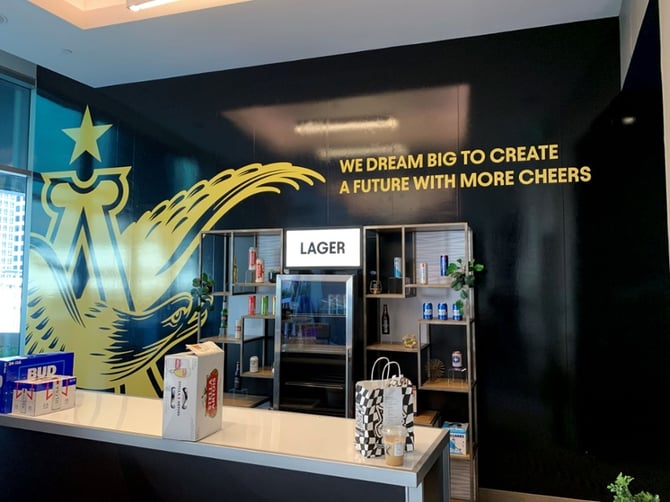 As a hotel business owner, you want visitors to feel that your hotel is their home away from home during their stay. For guests to have this experience, they must feel safe, comfortable, and welcome from check-in to check-out. One way to enhance the guest experience is the use of effective and attractive signage.
From exterior signs that display the hotel's name to wayfinding signs directing guests to facilities of note, and emergency signs ensuring guest safety, hotel signage serves many purposes.
Importance of Hotel Signage
Exterior and interior signs at hotels can be the difference between guests getting lost looking for or navigating through the building and a smooth visitor experience. When checking into a hotel, people are often jet lagged or tired from their journey, which makes the need for simplicity and clarity in directional signage even more critical. Quality signs are cost-effective marketing tools that can increase brand recognition and trust.
Even with the old adage in place, "don't judge a book by its cover," people are still quick to judge a business or hotel by its exterior. When driving to a hotel, the first thing guests will look for is the exterior sign. A well-designed, well-lit, and well-placed sign will make a great first impression. On the other hand, poor signage gives an unprofessional appearance, and guests may associate the hotel's quality with the sign's quality.
A hotel's signage helps to establish a brand identity and to promote recognition. From branded signage, potential guests should get a good feel for the type of hotel business they are visiting.
Branded signs are important not only posted at the entrance to the hotel but also in hallways, guest rooms, elevators, and hotel facilities.
If your hotel business already has a set brand identity, be sure to stick with the established colors, fonts, logos, and messaging in all of your signs. Certain colors, fonts, and other design choices can evoke specific emotions in a viewer and should be kept in mind.
When choosing brand colors, luxury businesses tend to go with more neutral tones, whites, blacks, soft colors, and metallics. Bargain brands, on the other hand, choose bolder, attention-grabbing colors such as reds and yellows. Color choice does a lot to set the tone of a hotel business.
Navigating a hotel without proper wayfinding signage can be confusing. Guests are accustomed to looking for directional interior signs to get around easily and will expect to find signs that lead the way to the hotel lobby, guest rooms, elevators, restrooms, pool, spa, and other facilities. A guest who gets lost getting around on their first visit may end up frustrated and not wish to return.
Effective signage can also increase hotel revenue. When signs are clearly pointing the way to facilities such as restaurants, spas, and bars, guests are more likely to visit these and spend more money.
A busy hotel will need adequate parking spaces and clear signage to indicate where and when guests can park their vehicles. Signs should indicate from the entrance where the parking lot or garage is located and where to pull up for valet parking if applicable. Hotel parking lots and garages also need signs labeling handicapped accessible parking spaces and any spaces reserved for the staff. Custom, clear signage will alleviate guest stress as they're checking in.
As a matter of safety, all exits and emergency routes need to be clearly indicated with proper interior signs. Wayfinding signs should lead the way to stairways and let guests know not to use elevators if there is a fire or evacuation.
Tips for Hotel Signage
1. Consider the use of Illumination
Choosing the right lighting can enhance the appearance and effectiveness of a sign. Exterior hotel name signs, whether pole signs or wall mounted, should be lit to assist guests in locating your hotel at night. LED bulbs, spotlights, neon signage, or illuminated acrylic boxes are all great options for exterior signs.
2. Stick with High-Quality Materials
The materials chosen for branded signage can add to a feeling of professionalism. Cheaper, low-quality materials can reflect poorly on your hotel business. It is also important to consider durability, especially with exterior signs. Exterior hotel signs should be made from high-quality acrylics, treated wood, or durable metals.
3. Visibility is Key
A hotel's exterior sign needs to be seen from a distance. Branded pole or exterior wall signs must be large, with clear legible fonts and high-contrast coloring. Incoming guests driving by your hotel should easily spot it from the road.
Even beautifully decorated, luxurious hotels may provide a poor guest experience without clear, effective signage. Hotel signs help to attract new visitors, streamline the check-in process, assist with navigation during their stay, and keep all guests and staff safe.