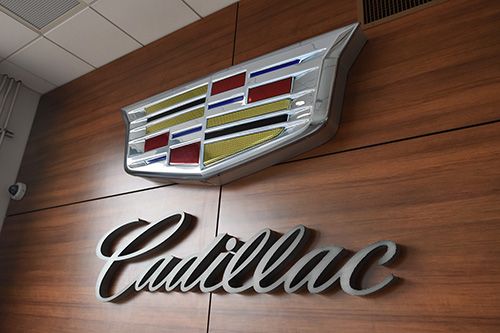 Retail signage is everywhere. Whatever your business, you must invest in quality signs to grab attention, help visitors find you, advertise promotions, and provide a safe environment.
Most retail signs you will encounter will be 2-dimensional, flat signs. Dimensional signage, on the other hand, has raised lettering, graphics, or logos. If your business is looking for a way to stand out amongst a sea of retail signage, 3-dimensional signs may be the right solution.
Advantages of 2-Dimensional Signage
2D signage is the most common style. Some benefits of 2D signs include the following:
1. Readability
Flat signs are clear and easy to read. Whether you use a 2-dimensional sign for your business name on a storefront, to showcase your logo, display opening times, post a menu, or showcase wayfinding directions, your messaging will be delivered effectively to visitors.
Clarity can be essential for signage. A flat sign on a matte surface will not be affected by shine, perspective, or shadow that could hinder readability. Often a less complicated sign is the right choice.
2. Room for More Text
For signs that need more text, such as informational and wayfinding signs, a 2-dimensional sign may be the better option. 2D signage is going to offer more room for text and graphics. For example, 2-dimensional signs will work well for signage posted indoors where visitors will stop close to read them. These include posted promotions, product or service descriptions, and safety signs.
3. Clearer for Wayfinding
Wayfinding signs need more text than others to provide clear navigation directions. For most wayfinding signs featuring text only, 2-dimensional options are preferable. 2D signs will also be easier to install in both indoor and outdoor settings.
4. Cost-Effective
For the most part, 2-dimensional sign production will cost less than 3-dimensional signage. These flat signs will also be available with shorter production times and can come in various inexpensive materials, such as wood, aluminum, and vinyl.
Advantages of Dimensional Signage
3D signs are more unexpected and may give your business an edge. Some benefits of 3-dimensional signs include the following:
1. More Impact
3D signs can add an unexpected element to any storefront or business. A dimensional sign will be more attention-grabbing and may work as an advertising tool, bringing in potential customers.
A sign designed with raised lettering or 3D graphics is easy to notice. A retail sign with a higher impact will help to establish brand recognition. If your brand logo jumps out at visitors, they're more likely to remember it. This type of signage can be used on storefront displays, reception areas, and parking lots.
2. Room for Creativity
While you can be creative on any sign design, a dimensional sign gives you another element to stretch your creativity. Not only can you make a big impact with raised logos or lettering, but 3D signs also allow for added lighting and digital effects.
Adding lighting to a 3D sign can create drop shadows and high contrast. This enhances the visual impact of the sign. Dimensional signs may be fitted with lighting such as LED systems. This also increases the visibility of your sign after the sun goes down. There are a plethora of customization options when choosing dimensional signage.
3. Better for Image Messaging
While 2-dimensional signage is best for textual wayfinding signs when designs are image or icon-based, 3-dimensional signage may have a higher impact. For example, specific icons and symbols, such as arrows and restroom icons, are widely recognized and understood. In these cases, textual explanations are not necessary, and a 3-dimensional sign will work better than a 2-dimensional option.
4. Variety
3-dimensional signs can be made from various materials. Some options include acrylic, foam, metal, wood, PVC plastic, and metal. These materials can be printed, shaped, and assembled in many ways. The option to add lighting, whether spotlights or LED paneling, as mentioned above, also increases the variety of options.
5. Sound Investment
While 2-dimensional signage may cost less, 3-dimensional signage can be a sound investment. Signs that stand out from others in the area to bring in new customers and stick in the minds of visitors become landmark pieces and are, in fact, marketing tools for your business.
Made from durable, long-lasting materials that protect your initial investment, a well-constructed 3-dimensional sign may be more expensive and take longer to produce, but once it is manufactured and mounted, it will last for years.
Best of Both Worlds
The correct retail signage for your business will be signs that effectively deliver the desired messaging. Whether a 2-dimensional or 3-dimensional sign is right for a task depends on the task in question, the size of the sign needed, and the location it will be mounted.
Each sign type has its advantages and disadvantages. Being aware of the pros and cons of all retail signs will help your business make the right choices.