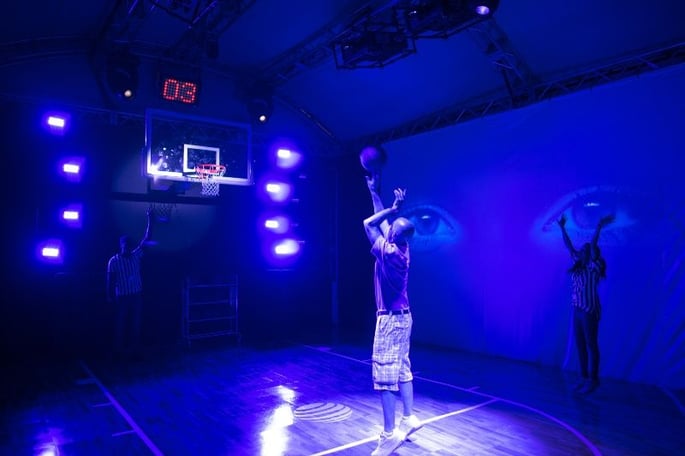 Vinyl and polyester fabric are two very common backdrop materials. But which is the right choice for your own company's wholesale backdrop needs? Is one material better than the other?
Backdrops can be used for photographic backgrounds, event advertising, and trade show branding. Even when made in the same colors or with the same printed images, the type of material makes a huge difference in backdrop performance. Let's take a look at the advantages of polyester and vinyl, as well as the best applications for each.
Vinyl Backdrops
Vinyl is a popular backdrop material because it is durable, wrinkle-resistant, printable, and easy to clean.
- Non-Glare Options
Vinyl backdrops are made of a nonporous flexible plastic. While most vinyl is shiny or transparent, photo backdrops can be printed in a non-reflective matte finish to prevent glare. A matte finish is essential for any photographs taken in direct sunlight or for use with flash photography.
- Easy to Clean
One of the significant advantages of vinyl backdrops is the ease of cleaning. Since vinyl comes from plastic, all it takes to clean dirty vinyl is a wipe down of the surface with a wet cloth or sponge. Easy cleaning makes vinyl ideal for messy photo shoots like food photography.
- Water Resistant
As vinyl is water resistant, it is the perfect choice for outdoor use. Even in the rain, your backdrop will not look discolored or dirty.
- Durability
Vinyl backdrops do not easily rip or tear, even when used in harsher conditions. The vinyl is thick and durable and can withstand many uses.
- Wrinkle Free
A vinyl backdrop does not easily wrinkle. However, you should not fold vinyl, or the creases that occur will be in the material forever. Instead, roll vinyl backdrops before storing them in protective tubes.
- Digital Printing
Vinyl is great for vivid, vibrant color printing. When large format printing vinyl, be sure to use high-resolution, sharp, clear images.
Polyester Fabric
Polyester fabric backgrounds, such as microfiber backgrounds, have recently become popular for photographic shoots and event backdrops. They have a professional appearance, are glare-free, and are easy to wash and store.
- Glare-Free
Polyester fabric is a much less reflective material than vinyl or other backdrop options, making it ideal for use with flash photography. A fabric backdrop will absorb the light from a flash instead of reflecting it.
- Lightweight
Polyester microfiber is lightweight and can be folded and put away anywhere, even into a storage bag, bin, or drawer. This ability to fold your backdrop means it will take up much less space in storage than heavier, more cumbersome options. The lightweight polyester material is also helpful with setting up and hanging backdrops. Fabric backdrops can even be stored hanging. This takes up minimal space and is best to prevent wrinkles and folds.
- Ease of Use
Polyester backdrops are very easy to set up and use, even if you are a beginner at using backdrops for photography, corporate events, and trade shows. Fabric is easy to move, lightweight, and easy to hang on a stand, and if you don't have a dedicated backdrop stand, the fabric can even be pinned into place.
- Ironable
Polyester is highly wrinkle-resistant, but if your backdrop does end up with small wrinkles and creases, you can easily iron those out before the next use.
- Washable
Fabric backdrops, while not water resistant or quickly wiped down, can be thrown into the wash when dirty. There may be better options for outdoor events on wet or rainy days, but on a dry day, they should work out just fine. In between uses, simply throw the backdrop into the washing machine on the cold or delicate setting. Air dry after washing, and you're done. Microfiber polyester is also a shrink-resistant fabric.
- Professional Look
Polyester fabric gives a softer, more professional look. The material works very well with digital image printing, giving off a realistic, rather stiff background. You can print a high level of detail onto microfiber polyester fabric, making it perfect for natural images. With advanced printing technology, a polyester backdrop can be printed with any image, pattern, or color.
In some ways, microfiber polyester backdrops can be superior to vinyl. They are lightweight, easily folded and stored, give a glare-free softer appearance in photographs, can be washed, ironed, and steamed, and are very easy for anyone to use.
Whether polyester is the right choice for your business will depend on what you plan to use your wholesale backdrops for and what environment you plan to use them in. Regardless of which material you choose to go with, both vinyl and polyester allow for sharp, clear digital printing and will increase the professional appearance of your photography studio, trade show booth, or runway event.