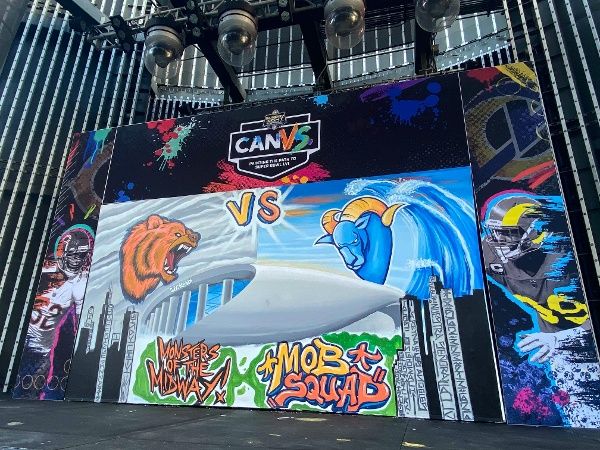 Professional events are all about visual impact. An event backdrop should positively represent your brand and impress your guests. Photographic backdrops should be seamless and wrinkle-free, use bright, vibrant colors, not be reflective of sunlight and camera flash, and be an appropriate size for the space.
From charity galas to industry trade shows, including step and repeat or photographic backdrops can be the perfect branded addition to any event. However, wholesale backdrops made from unsuitable or unprofessional materials can negatively impact the reputation of your company or brand. The solution for creating professional and impressive event backdrops is using tension fabric.
What is Tension Fabric?
Tension fabric is a type of fabric that is created to be stretched taut across a rigid frame. Wholesale backdrops come in a variety of different tension fabric materials. All tension fabrics are durable, but the most popular option is polyester. Polyester tension fabric backdrops offer many valuable benefits over the use of other fabrics and materials.
The Benefits of Tension Fabric
1. Durable Material
Tension fabric backdrops are very durable and will last for years. Unlike other fabric, vinyl, and paper backdrop options, tension fabric will not show wear and tear and can be used repeatedly. Polyester tension fabric is lightweight but will hold its shape without warping and wrinkling.
2. Lightweight and Portable
Tension fabric creates the same smooth look as board graphics or portable walls but is much more lightweight and portable. Fabric can be folded or rolled for easy transportation. Even the frames used to set up tension fabric backdrops tend to come from lightweight and portable aluminum.
3. Seam and Wrinkle Free
Tension fabric is pulled tight over a backdrop frame, creating a seamless, wrinkle-free look. Each backdrop will be printed in one seamless piece to fit your specific size and design. The tension fit gives your event backdrop a professional wall-like appearance without fabric sagging or waves.
4. Fade Resistant
Tension fabrics such as polyester hold onto printed color in direct sunlight and when machine-washed with cold water. Faded fabric backdrops can give off a sloppy or unprofessional look. The fade resistance of polyester tension fabric will keep colors and graphics sharp. The printing process with polyester fabrics is a dye sublimation process that transfers ink directly into the material using a heat press rather than printing colors onto the fabric's surface. This printing process is sharper and more permanent, preventing color fading and spreading ink.
5. Non Reflective
Tension fabric backdrops will not glare when placed in harsh sunlight or with flashing cameras. A vinyl backdrop may have a shinier surface and can ruin photographs by bouncing back direct light. The polyester fabric absorbs light and gives off a higher-end, more professional matte appearance.
6. Eco-Friendly
Tension fabric backdrops are a more eco-friendly option. This fact may be especially important if your company wishes to place a larger wholesale backdrop order. With dye sublimation, there is zero ink waste. The tension fabric material is saturated with ink without ink leakage.
7. Simple Setup
Tension fabric is typically displayed with the use of an aluminum tubing frame. Tension fabric backdrops are printed to fit each frame precisely, which allows for a seamless and simple setup. Tension fabric backdrops typically come in a pillowcase shape design, allowing you to easily slip the backdrop over the frame and close it with a zipper or hook and loop straps. The other backdrop stand option is an aluminum pole setup. Pole pockets are sewn on the outer edge of the backdrop for use with these stands to allow it to be stretched and displayed with tension.
8. Backlit Illumination
Tension fabric may be lit from the front and backlit for a unique effect. Backlit illumination through polyester fabric can create an impressive glow and significantly impact any event. The best backlighting option is to use LED lights.
9. Machine Washable
Tension fabric backgrounds may be thrown into a washing machine at the end of an event. Be sure to set your machine to cold water on a gentle setting. Easy cleaning cuts down on spot cleaning time and prevents you from having to replace worn or dirty backdrops.
10. Versatile
Tension fabric backdrops can be printed with any graphics, logos, messaging, or design. The branding possibilities are only limited by the creativity of the designer. Being portable and easy to install, tension backdrops can be used for any event or set up in a photographic studio or office as the backdrop for virtual meetings.
There are many reasons why tension fabric is the ideal material for a professional and impactful event backdrop. Whether you're looking to upgrade the look of your trade show booth or provide an elegant background for charity gala photographs, lightweight, seamless, easy-to-install, versatile, eco-friendly photographic or step-and-repeat backdrops will elevate the look of your event.