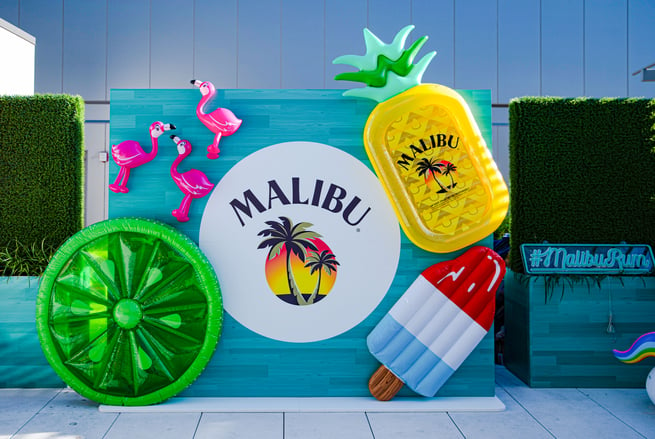 Does your business have a wholesale backdrop? Many companies don't, simply because they haven't considered getting one before. Wholesale backdrops are one of the most inexpensive ways to increase brand awareness and appear more professional. Accessible to anyone, they facilitate superb experiential marketing, leaving customers with memories and photos to share on social media.
The list of benefits provided by this versatile branding tool is lengthy. But for any of these to become a reality, you first need to know how to buy one that will suit your business. There are quite a few options available, each with its own pros and cons.
Backdrop Dimensions:
Wholesale backdrops can range from being only slightly taller and wider than a person to large enough to fit 50 or more people in the foreground. Here are some aspects to consider when deciding on the size:
● Location - Determining the location of your backdrop is likely the most important factor to think about when sizing your print.
● Transport - How frequently will you be changing the backdrop's location? In general, the smaller the size, the easier it is to transport, and the bigger it is, the more of an impact it will have.
● Demographic - Backdrops for childcare centers or specific locations in amusement parks are almost exclusively used by children. If this is the case, an eight-foot-tall backdrop may be too much.
● Budget - Although most printing companies, like Craftsmen Industries, can print on enormous scales, it's good to keep in mind that the bigger the print job, the more expensive it will be.
8x10 feet is probably the most "classic" wholesale backdrop size. However, if you're a dance studio or regularly have groups bigger than 10 people, there are options for backdrops 20-feet or wider that will suit your business better.
Material and Color:
These two aspects of your wholesale backdrop go hand in hand. One of the main complaints of backdrop owners is that when photographed, they produce an unattractive glare, becoming an eyesore rather than a asset in the image. Even though glare often originates from poor lighting and unprofessional photography, choosing your material and colors carefully can reduce the chances of those eye-blinding flashes.
The primary materials available for backdrops are vinyl and fabric. Fabric backdrops produce minimal glare and rarely crease or wrinkle. However, purchasing fabric has its drawbacks too. Fabric printing is more expensive, and your backdrop will be lighter which means it will be more susceptible to the elements. For these reasons, most backdrops you see at events and in businesses are printed on vinyl.
Both vinyl and fabric backdrops will last for a decade or more and look professional.
Your company's brand largely dictates colors. The color that will affect glare the most is the background color. Pure whites are challenging to photograph. So, if you use white, it is wise to add a little gray tone. The photographers will thank you. Tones of black or white are the most common because they go with whatever colors the people in the foreground are wearing and aren't too distracting. However, bolder colors can be exciting.
Design:
Designing a backdrop can be as complicated or as simple as you like. Some general tips include using:
● Logos, Logos, Logos - It's hard to go wrong with logos. They are perfect for making your brand more recognizable without being too noisy.
● Step and Repeat - This is by far the most popular backdrop design. Take your logo or some other simple design and repeat it in rows, with each row offset from the next. It's almost too easy!
● Matte - If you're using vinyl, go for the matte option. This will help you stay clear from that dreaded glare, especially in settings with lots of light.
Stands:
Let's finish with the back. Wholesale backdrops are best displayed vertically to the ground. This means a stand behind the display is required to support the vinyl or fabric banner from falling over. These stands come in all sorts of shapes and sizes. Some common ones include:
● Frame - Wooden, plastic, or metal pieces that support the banner on all sides. Frames are the least movable type of stand and can be complicated to set up and take down. On the bright side, frames are sturdy compared to many other stands and ensure the banner is flat without wrinkles or folds that can appear in photos. If you plan to set your backdrop up in one place for a long time, this could be the best option.
● Spring-back - This stand generally features supportive rails forming an X behind the banner and holding out each corner. The main drawback is that they aren't very robust and struggle to hold large backdrops erect. Spring-back stands are incredibly light and portable. Many consider spring-back to be the best option for smaller, indoor backdrops.
● Retractable and Telescopic - If a frame stand is too cumbersome and a spring-back is too flimsy for your liking, the best option for you might be retractable stands. These feature two vertical rolls that support each side or one roll at the bottom with arms holding the top of the banner up. The roles act like retractable measuring tapes. They pack down and set up easily.
A Final Recommendation:
Most of us aren't professional backdrop creators. If you still have no idea what kind of stand to invest in or what design will make the best impression, don't stress. A large format printing company like Craftsmen Industries can work with you to make these decisions and will help you create the perfect backdrop fit for your needs. When in doubt, consult with the experts.