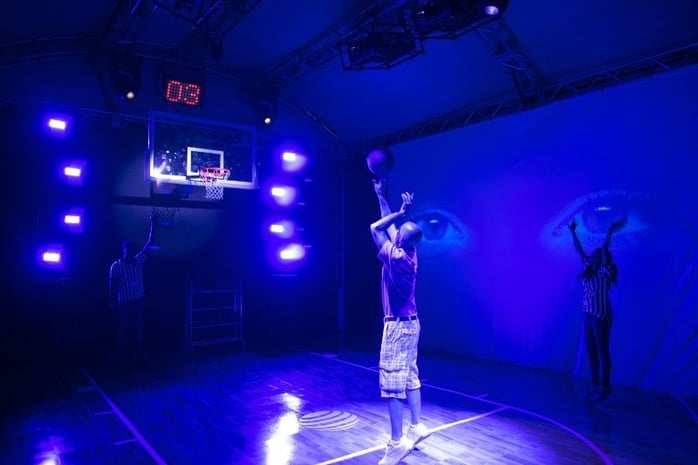 Event backdrops contribute to the ambiance and purpose of an event. A quality wholesale backdrop should be printed in an appropriate size for the venue, have sharp easy-to-read images and logos, have a good color contrast, be smooth, not wrinkled or crumpled, and fit in well with the atmosphere of the event.
Benefits of an Event Backdrop
Backdrops add a touch of style and professionalism to any event. They are used to promote your business or organization in a way that also benefits the guests.
Putting up branded wholesale backdrops at convention booths can bring more foot traffic to your area. Step and repeat backdrops displayed at promotional or charity events will get your logo in the background of hundreds of photographs. Branded backdrops can also be used in reception areas or as backgrounds for video correspondence.
Design Backdrops that Make a Statement
Here are a few key design elements to consider to make the most impact with your branded backdrops.
1. Size
One thing to consider when deciding on your backdrop size is the expected crowd size. For backdrop height, it should be at least eight feet tall to accommodate any guest. The width will then depend on how many people you expect to step in front of it at once. You never want your guests to block out the entirety of the backdrop in photos taken. This can look messy and unprofessional. The typical size range is between eight feet by four feet and eight feet by twelve feet.
2. Logo
While your business or organization likely already has an established logo, some events require a new design, font, or format. The font must be sharp and clear, and legible from a distance. Creating and saving your logo in a large, high-resolution file is also essential so that the printed backdrop is not blurry.
3. Number of Logos
Whether designing an event backdrop with one company logo repeated or representing different brands and logos, you should take care with logo placement. Too many different brand logos will take away from the purpose of the backdrop. A good rule of thumb is to limit the repeated logos to five. Like any good design, the logo layout should be well balanced. Keep logo close to the same size and well-spaced to allow for legibility.
4. Event Consistency
A backdrop should, of course, fit in with the look of your company's brand and, when used at a convention or trade show, the theme of your booth. While some backdrops will be usable again at different times, others may need a redesign. Some events require consistency between all backdrops with the use of colors, fonts, graphics, and the inclusion of other sponsor logos or brand imagery. Any event backdrop should reflect the event and sponsor personalities.
5. Color
Consider brand colors when designing a backdrop, as well as the overall color scheme of the event. If a brand utilizes multiple recognizable colors, select the colors that work best with the whole look of the event. Be sure that the color of the backdrop material does not clash with logo colors and gives enough contrast so that logos and branding stand out. Pure white backgrounds can reflect flash and ruin photos, so off-white materials are often preferred when designing white backdrops.
6. Backdrop Material
Another factor in preventing reflection and glare is the material used. Matte finishes help to limit bright spots in photos. Matte vinyl and fabric are both great options for an event backdrop. Vinyl is also ideal for providing a wrinkle-free surface. Rolling your vinyl wholesale backdrops can help keep them smooth and undamaged. While paper is inexpensive and may be tempting, paper can easily rip or tear and is not at all water-resistant. A damaged, ripped, or dirty backdrop will not make a good impression at any event.
7. Lighting
Always consider the lighting situation for any event backdrops. Will they be placed outside in harsh sunlight? Will they be in a dark hallway? Will you need to bring additional lighting for optimal effects? One off-the-wall modern option is LED backdrops. While this is a much more expensive option than printed backdrops, they may add a wow factor and do not require additional lighting. LED backdrops are also highly customizable to fit the feel of any event.
Whether designing for a red carpet event, industry trade show, charity gala, or conference, a well-designed backdrop can add a lot of class to an event. Step and repeat backdrops make guests feel special and important while keeping organizational branding at the forefront. Photographs taken in front of branded backdrops may be posted all over social media and could appear in magazines, on television, or in newspaper articles.
On the other hand, a poorly designed backdrop could cause more harm than good. Fuzzy logo printing, the wrong choice of material, or a cluttered design can come off as cheap and unprofessional. It is important to put care into backdrop design and to select a quality wholesale printing company to ensure your event is a success.