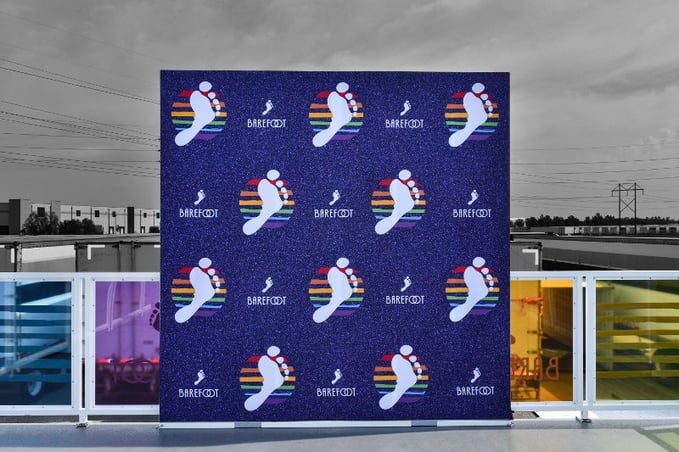 For photographers who are just starting out or pros who want a different perspective, an outdoor photography studio can get the creative juices flowing and offer a cheap alternative to renting an indoor space. Mastering the art of using natural light is essential for any photographer. An outdoor studio setup will allow for natural light experimentation and give you results you couldn't get indoors.
Studio lighting and equipment can be expensive, hard to learn, and cumbersome to transport. Instead, try getting out of your element for your next photography session by setting up a backdrop in a well-lit outdoor setting.
Why Would I Want an Outdoor Studio?
An indoor studio gives you control over every aspect of your pictures, including the lighting. Outdoor photography can be challenging and require you to adapt your approach to the current conditions. However, it provides some unique benefits you will not get in a traditional studio.
Make all of the great outdoors your creative space. Learn to love direct sunlight, and add to your new or established photography portfolio with a minimal cost investment. Outdoor studios are ideal for fashion photography and individual or group portraits.
1. Master Natural Light
Shooting in direct natural sunlight can be tricky, especially for new photographers. Setting up an outdoor studio will give you plenty of opportunities to experiment with natural light. As light changes throughout the day, you may need to adjust your camera settings and even bring in additional light sources. Natural sunlight, when harnessed right, can create soft, natural photographs.
2. Freedom of Location
You can set up an outdoor photography practically anywhere. You do not need to stress about where to hold your photography sessions. You have a studio as long as you have space to put up a backdrop stand. You can easily personalize backdrops for important sessions, ordering specialty-printed wholesale backdrops in custom colors, patterns, imagery, and graphics.
3. Low Cost
Acquiring studio equipment and lighting to create an indoor photography studio is a significant investment. On top of that, the cost to own or rent a studio space is going to add even more expenses. With an outdoor photography studio, the investment is minimal, and the equipment is portable, allowing you to set up a studio anywhere.
4. Get Your Business Started
An outdoor studio is an excellent option for photographers just starting. Build your portfolio with minimal initial investment, and learn to use natural lighting before adding additional lights and strobes.
How Do I Get Started?
Setting up an outdoor photography studio will require a few tools and steps.
1. Select Backdrops
While photography backdrops come in many different materials, colors, prints, and patterns, you must keep the elements and weather in mind if you plan to set up an outdoor studio. Consider investing in an assortment of wholesale backdrops in different colors and patterns. You will most likely want backdrops made from vinyl or fabrics that are washable, as these will hold up in outdoor environments.
2. Invest in a Backdrop Stand
Once you have your backdrops, you will need to be able to hang them. Invest in a sturdy backdrop stand. Don't forget to remember clips and clamps to keep everything sturdy and secure. When setting up a backdrop stand, you must ensure that the ground is even and level.
3. Get a Light Scrim and Reflector
Naturally, when using sunlight as your primary light source, you will need to be able to diffuse it. A light scrim will give you some control over the harshness or softness of the light. A reflector will bounce the sunlight back onto your subject to prevent harsh shadows and create highlights where you need them.
4. Collect Props
You may enhance many studio sessions with the addition of props. Start a collection of exciting and attractive items to have on hand. If you are shooting for a specific campaign, put some time into considering what sort of props would work best to highlight the subject.
5. Consider Additional Lighting
Sometimes, a reflector and a scrim are not enough to give you the lighting effects you're after. Consider adding additional outdoor studio lighting or off-camera strobes to your portable equipment.
6. Remember Weather Protection
When shooting in the great outdoors, you're not always going to have perfect weather conditions. It's essential to make sure you are prepared should the clouds open up in the middle of a shoot. For example, keep umbrellas on hand, and a pop-up tent might be an excellent addition to your studio setup.
7. Choose a Location
Location is critical when setting up an outdoor studio. Look for an area that has good natural light. This may be diffused soft light or harsh, dramatic lighting, depending on the mood of your photography session. The ground surface should be dry, flat, and even. Try to select a space that has protection from strong winds. Remember to give yourself plenty of space to hold the backdrop stand, backdrop, subject, and props.
Setting up an outdoor photography studio can help a new photographer learn lighting techniques, build a portfolio, and challenge a seasoned photographer creatively. Harsh weather and changing sunlight can interfere with scheduled shoots, but learning to adapt will make you a better photographer. Creating an outdoor photography studio could save you a lot of money while giving you the right space to create impressive, impactful photographs.