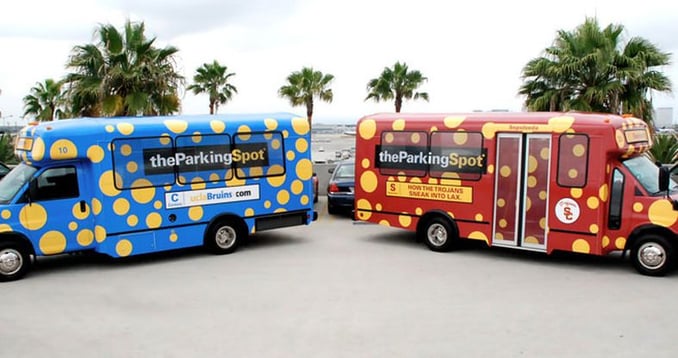 Fleet graphics are vinyl wraps that turn an ordinary work vehicle into a moving billboard. They can be customized to advertise specific products or simply make a brand and business more recognizable. Here are some businesses that can capitalize on the numerous benefits of fleet graphics.
1. Moving Companies
For moving companies, installing fleet graphics is a no-brainer. When your entire business revolves around the transport of people's stuff from one place to another, advertising on the road is your best option for a few reasons:
Fleet wraps show that you are out there moving people. As a customer, if you've never seen a moving company's truck before, it's much less likely you will think of them when you need to move.
Fleet wraps advertise to your exact target market. Neighbors considering moving will see your trucks down the street. Having fleet wraps on your trucks promotes your brand directly to these potential clients without any additional effort.
Fleet wraps make your fleet of moving trucks recognizable to clients. Rather than causing a moment of confusion when your truck pulls up to a client's house, you are instantly recognizable as the moving company with fleet wraps.
What you put on your custom vehicle wraps as a moving company is up to you, but should include your logo and business name at least. Whatever the design, it will help your moving business look professional, unified, and popular.
2. Trade Companies
Any specialized trade company can use fleet graphics to increase visibility in a community. Plumbers, electricians, landscapers, and carpenters do the crucial behind-the-scenes work that keeps the modern world on its feet and running smoothly. However, because trade skills are mainly required when things are being built or broken, trade businesses rarely get attention when people use facilities.
Fleet graphics are one of the best ways a trade company can spread brand awareness and get more customers. With fleet graphics, an electrician tucked out of sight fixing a problem in the roof's lighting system still has their van or truck parked out the front of the property advertising their expertise and brand to everyone in the area.
3. Food Delivery Companies
Since the COVID-19 pandemic, almost all food businesses have expanded their services to include at-home delivery. Adding custom vinyl graphics to your fleet of delivery vehicles helps customers know when their food has arrived.
Fleet wraps have the added effect of making neighbors jealous of the easy dinner next door. It may cause them to consider ordering their own meals for delivery. You only have to pay for fleet wraps once, but the returns will compound every day your fleet vehicles are out on the roads.
Fleet graphics are also great for showing off your mouth-watering delicacies. A study published in the journal of business ethics states that in the food market, "Children under 12 years of age spend another $25 billion, but may influence another $200 billion of spending per year." If your fleet graphics catch a child's attention, they often influence adults' decisions too.
4. Shuttle Companies
Fleet graphics are to shuttle companies like water is to fish. A shuttle company without graphics can easily be left high and dry behind the companies that invest in custom vinyl wraps for their shuttles. Fleet wraps help a shuttle company:
Connect with booked clients
Advertise services to people at the locations where potential customers are located
Make a shuttle company appear first class
Stand out from competitive shuttle companies
Shuttle companies reap these benefits when they are as recognizable as public transport, like city buses, or other public services, like the police.
5. Real Estate Companies
Success in real estate revolves around how many people know you as a reputable agent. Fleet graphics on vehicles are like moving billboards that spread your name around the area where you live and work.
Real estate agents do good business when clients see them as fair, trustworthy, and organized. That's why most real estate agents wear formal dress and are intentional about their outward appearance and first impressions. Investing in fleet wraps is like giving your vehicles the correct attire for the job. 'Dress for success' can apply to you and your vehicles.
6. Tourism Companies
Fleet wraps on tourism company vehicles, whether a nature retreat, snow sports resort, or a museum, are a cost-effective way to display what you have to offer. They catch attention and inspire action. For example, a bungee jumping company might create a fleet wrap showing a customer mid-dive. These graphics spark conversations in neighboring vehicles about bungee jumping experiences or aspirations, leading to greater brand awareness and business levels.
7. Small Businesses
Making a name for yourself is one of the most significant hurdles to jump over as a small business. Most startups never achieve public recognition to the point where their brand is recognizable. Many people see fleet graphics as only an advertising tool for big businesses like Amazon and FedEx. In actual fact, anyone can get custom vinyl graphics for their vehicle. Even if you only have two cars, investing in vehicle wraps will dramatically increase awareness of your small business and make your business appear like a well-established brand.