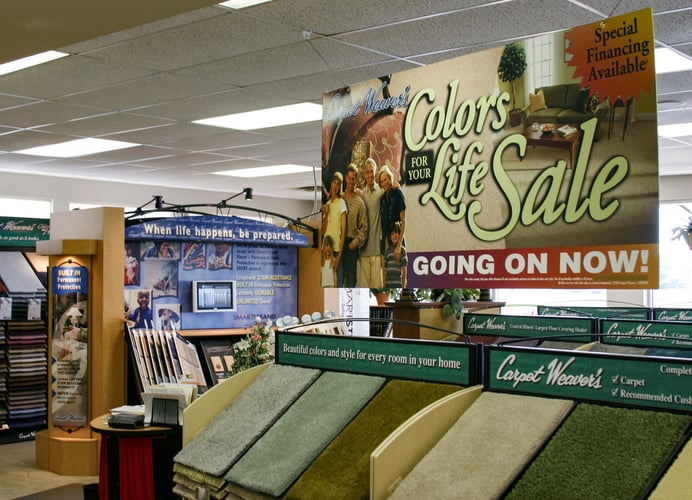 Imagine walking into a brand-new store and finding all-white walls with nothing on them. There is nothing welcoming about a space like that. Color, imagery, art, and retail graphics on the walls of a store invite customers to come in and explore.
Custom art, such as a retail wall mural, can be engaging, informative, memorable, and inspirational. A striking mural creates a great first impression and helps to enhance the shopping experience for your guests.
Benefits of Wall Murals
Custom, vibrant retail wall murals:
1. Make an Impression
Wall murals make a big first impression. They are the perfect "wow factor" touch to the exterior of a retail space or when used as part of the interior design. A wall mural can increase customer traffic if your retail store is located on a busy street. Potential customers are likely to notice a large and striking work of art and make plans to visit.
When designed thoughtfully, a wall mural can create an emotional response in the viewer. Color theory should be considered in the design of any retail graphics, including murals. Research indicates that specific colors may trigger particular emotions, and some may even boost sales. Red can encourage action, while blue may help to keep viewers comfortable and calm.
A retail store mural can be hand-painted directly onto the wall or made using large format printing on vinyl. A printed mural may come as separate mural decals, customizable as you lay them out on the wall, or as one large cohesive piece. Adding a mural can be a one-of-a-kind way to show off a work of art, advertise specific products, or decorate a space.
2. Relay Information
Like any retail graphics, wall murals can help your store present important information to potential customers. A creative mural can represent your company's personality, give an idea about the services and products in the store, and with added textual elements, can help to get across branded messaging.
Wall murals can include a lot more than beautiful imagery. Mural designs may feature logos, menus, brand slogans, quotes, a list of services, and even informational QR codes or URLs.
3. Stand Out from the Competition
Competition is a fact of life in business. Eye-catching wall murals will help your store stand out on a busy street and help distinguish your brand from other local options in the minds of your customers. A memorable mural will give a retail store a unique look and showcase brand personality.
One goal of any business marketing plan is to increase brand awareness. Wall graphics and murals work well as marketing tools to assist with brand recognition by including branded colors, logos, and messaging.
4. Grab Social Media Attention
Well-designed, colorful, unique wall murals will naturally generate social media attention. Content creators, influencers, and everyone who takes photographs and videos to be shared over social platforms always look for interesting backgrounds. Go the extra mile by making your mural interactive. Let viewers place themselves into the imagery. One popular mural example gives the illusion of putting on wings when you step in front.
Encouraging visitors to share, post, and tag your brand in photographs and videos they take in front of your retail graphics and store murals can be another great addition to your marketing plan. Increase engagement further by offering giveaways and other rewards.
5. Durability
If your retail store chooses vinyl-printed wall murals, you can be sure they'll be durable and long-lasting. Unlike painted murals, vinyl can resist scratching and staining. Vinyl is also waterproof and can work for both indoor and outdoor wall decoration. Installation of vinyl-printed murals is also very quick and easy and can be done by just about anyone.
6. Cost-Effective
Putting up a wall mural is also an excellent investment. Compared to other interior design elements and signage, a painted or vinyl mural will be very inexpensive. With the added marketing benefits your business will see, retail wall murals give a lot of bang for your buck. Hiring local artists or designers to work on murals is also a great way of building community relationships and morale.
7. Motivate Employees
No employee wants to work in a sterile, dull environment. If your customers' emotions are affected by colors and design in the space around them, your employees' emotions will be as well. Putting thought into your store's look and design can help increase employee motivation, creativity, and productivity.
For custom wall murals that have a focus on brand messaging and values, company employees could also have a friendly, vibrant reminder of the brand mission. This attention to detail can help keep everyone on track while performing daily tasks.
As both art and advertisement, custom wall murals can do a lot for your retail business. Bring new customers to your store, enhance the shopping experience, increase sales, boost your creative marketing efforts, and improve employee morale, all on a surprisingly small budget and time frame.