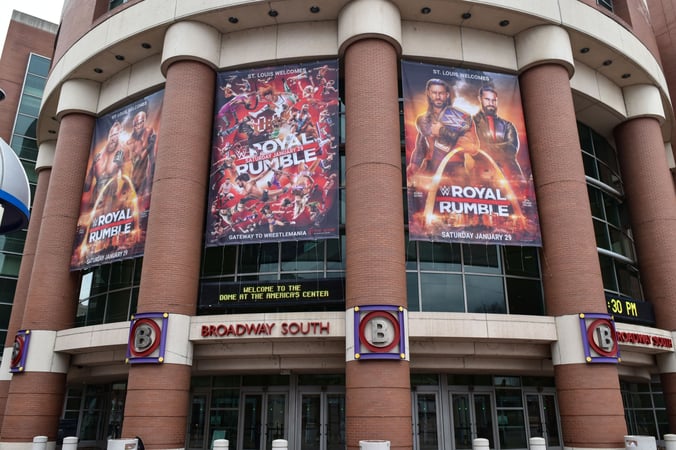 Your company's outdoor signage needs to attract attention, clearly represent the brand, and assist potential customers with navigation. Outdoor signs must look good and be built to last both time and the elements. Durability is critical when considering materials for outdoor signs.
Different Types of Outdoor Signs
Before choosing sign materials, consider what types of outdoor signage your business will need.
1. Navigational and Wayfinding Signs
Navigational signs may indicate where or how far a business is, serving as a guide for pedestrians or vehicles. Wayfinding signs point the way to important things such as the restroom, parking lot, stairways, etc. They are important to prevent people from getting lost and for providing a stress-free experience for your customers and visitors.
2. Pylon Signs
Pylon signs will attract the attention of people from afar. These are huge signs mounted on pylons, next to busy streets, or at the entrances to buildings. Pylon signs are ideal for attracting potential customers driving by.
3. Pole Signs
Pole signs are made up of a pole and an illuminated cabinet to allow a business to change out promotional messaging. These also work great to attract drivers and raise brand awareness.
4. Monument Signs
Monument signs are a type of architectural signage that sit on the ground and come up to about five feet tall, in the line of sight for most pedestrians or people driving by. A monument sign is permanent and used as a landmark for locating a business. The base of these signs is usually made from stone or bricks. You will find them at the entrances of parking lots and buildings. In a complex, a monument sign may advertise multiple businesses.
5. Blade Signs
Blade signs hang off the edge of an exterior wall and can be either illuminated or not. These are usually sleek in design and help a pedestrian find the entrance to the building. Blade signs are especially important in busy shopping centers and urban areas.
6. Wall Signs
Wall signs are typically mounted on the wall above a building entrance. These can come in a variety of shapes and sizes. A wall sign may be a flat panel printed with graphics, an acrylic illuminated box, or even made up of individual 3-dimensional channel letters.
7. Window Graphics
Window graphics are a lower-cost option, made from vinyl. These are highly customizable, can be printed with any graphics, and can be placed onto storefront windows without causing any damage.
Material Options
Choosing the material for your company's outdoor signage will depend on the type of sign, the location, the size needed, and the purpose.
1. Aluminum
Aluminum is lightweight and affordable. It is very versatile and resistant to outdoor elements. Unlike steel, aluminum is a metal that does not rust, which makes it an excellent choice for outdoor signage. Aluminum signs can be made in different thicknesses, depending on the size and placement of your sign. Aluminum is a very popular choice for wayfinding, directional, and street signs.
2. Acrylic
Acrylic is a type of plastic that can be used similarly to glass. They offer a lot of visual appeal at an affordable price. Acrylic signs can be lit from the front, backlit, or built to be illuminated from within a frame or cabinet. The surface of an acrylic sign is highly durable against the weather and resists color fading. Acrylic is very versatile and can be used for many different sign types.
3. Vinyl
Vinyl is a very inexpensive material. It is weather and water-resistant, making it perfect for outdoor signage. Vinyl can be used for storefront window graphics as well as outdoor banners. Vinyl signs can be printed with any imagery, graphics, logos, and colors. As it is a low-cost material, it is also great for temporary signage. You'd do well to go with vinyl for signs advertising seasonal or limited-time promotions.
4. Treated Wood
Treated wood is a higher-priced material, but worth it for certain types of signage. A wooden sign might be the right choice if your business fits with a more rusted aesthetic. While you may be tempted to use untreated wood to save on production costs, a sign made from untreated wood will have much less durability. For a high-quality sign that will last, stick with wood treated to withstand water and weather. Treated wood can also be used with other materials. For example, aluminum or steel signs can be adorned with a wooden facade.
5. Durawood
Durawood is an excellent option if you want the look of wood but the durability of plastic. Durawood can withstand harsh weather conditions better than an actual wooden sign. Signs made from durawood can come in any shape or size. Durawood is also lightweight and great for creating large or hanging sign options.
Outdoor signage is essential for any business type. Outdoor signs are vital for attracting visitors, reinforcing brand recognition, and creating a seamless customer experience. While there are many materials to choose from, the suitable material for your outdoor sign will depend on the type of sign, your marketing budget, where it will be mounted, the size, and the purpose. Whatever you choose, be sure that the material is going to last.