Mobile medical clinics are great for providing essential healthcare services to remote or underserved communities. They improve access to medical care and provide convenient locations for health screenings and vaccinations. For medical establishments, it's important to know how to set up mobile medical van clinics to extend their reach and demonstrate a commitment to the community.
The value of having a mobile medical van lies in its ability to bring healthcare literally to the doorstep of those who need it most. Fostering a healthy community isn't only about having the capacity for emergency response. It's also about successfully performing preventative care, which is the foundation of a sustainable healthcare system.
The article will discuss the steps to setting up a mobile medical clinic through the use of a van. We'll also provide you with solutions for common problems, as well as tips and tricks from experienced professionals in the field.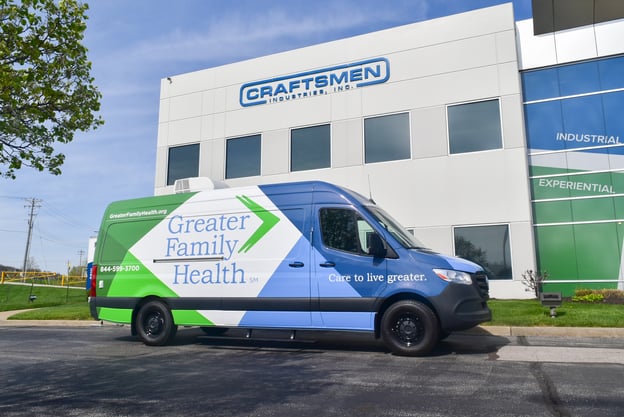 How To Set Up Mobile Medical Van
Setting up a mobile medical van requires careful planning and a dedicated team of professionals. But that's not all - it also demands a thorough understanding of the local healthcare needs and forming strong partnerships with organizations and healthcare providers.
Knowing how to set up a mobile medical van is more than just a procedural endeavor. Beyond the basics, many requirements need to be adhered to. On top of that, there needs to be a keen sense of innovation, flexibility, and resourcefulness to overcome various challenges.
Secure the best mobile medical van by choosing a leading construction manufacturer like Craftsmen Industries. We can provide an adequate vehicle for your healthcare with customizable solutions that adhere to the demands and high standards of the medical field.
Establishing a mobile medical vehicle involves the following steps:
Plan
Determining the purpose of the mobile medical van should be at the top of the list of priorities because it sets the tone for all future work. The medical van can be adapted to provide general services or specific healthcare screenings, and it's vital to know what it will be about.
After determining the vehicle's purpose, you need to develop the idea for a target group, i.e., the population it will provide care for. Next, do carefully analyze the market with consideration of the local landscape for healthcare services. Having the location where the van will operate will go a long way in helping to make the necessary market analysis.
Finally, the partnerships you want to create with local hospitals and clinics should be included in your plan. The list of partnerships can include healthcare organizations and government agencies. Once you have a list of potential suitors, you can start presenting them with your pitch.
Organization
There's plenty of work behind the scenes, which involves logistical coordination, equipment maintenance, data management, etc. However, the biggest issue is always regulatory compliance, as a large network of laws and standards tightly governs the medical field.
Here are some necessary steps regarding regulatory standards and other issues:
Business structure
Determine whether the unit would operate as a non-profit or for-profit. This will affect your tax obligations, liabilities, and overall organizational framework. The common options for a mobile clinic include sole proprietorship, partnership, limited liability company, or non-profit organization.
Licenses and permits
It almost goes without saying that there are many licenses and permits that need to be acquired in order to start working the van. They are different for every jurisdiction, so you will need to research the regulations specific to the area where you plan to operate.
This includes HIPAA compliance if your mobile medical van is tailored to handle patients' health information. Your job will be to establish protocols for the storage of data as well as getting consent for sharing it.
Insurance
The insurance you choose needs to be specific to the risks your mobile clinic will undertake. This includes liability insurance to protect from medical malpractice claims, general medical claims for accidents that may occur during work, and insurance for the van.
Staff
All medical professionals involved in the operations need to be licensed based on the rules in the jurisdiction. You will need to verify that the people you hire possess adequate certification. If your mobile medical van offers vaccinations, then make sure that the nurses are certified for immunization practices.
Furthermore, you need to perform regular background checks and driver's licenses to ensure everything is in order.
Accounting
Regardless of the structure, managing the revenue is of the utmost importance as it will determine the project's success. Set up proper accounting and financial tracking systems to keep accurate financial records. This is vital for maintaining transparency, being compliant with tax laws, and demonstrating responsibility to potential donors or funders.
Funding
To secure funding for a mobile medical van, you need to explore all options. The funding needs to provide the necessary financial resources to cover the initial startup costs and support the ongoing operations.
There are various ways to secure funding, and you can acquire funds from multiple sources. You will need to provide all potential donors or funders with a comprehensive plan and the capacity to run a profitable operation.
Foundations
Local, regional, and national foundations offer grants for various healthcare initiatives, especially for underserved populations. Create a business plan presentation that would pander to such organizations by highlighting the community and social aspects of the mobile clinic. Explain how its work would tackle healthcare disparities and how it can improve health outcomes.
Create business partnerships
Some local businesses may want to sponsor your mobile medical van, but it would be up to you to find and decide which ones match the purpose of the medical mobile van. Setting up a mobile medical van can be a profitable endeavor, but it can also be an opportunity for brands to show their philanthropic side and get some good exposure.
Your task will be to design some proposals that would be of interest to businesses that would make them want to form a partnership. You can collaborate with established healthcare networks and medical institutions that might be interested in supporting your mobile clinic as part of their social responsibility initiatives. Such partnerships don't only generate funds but also deliver expertise, resources, and credibility to your project.
It's worth researching for impact investors, i.e., people who provide funds with the expectation of financial returns. In most of these scenarios, you will be required to deliver a sound business plan that would cater to the target audience and provide them with an idea of where their money would go.
Fundraising
You can throw events for the purpose of raising funds for your mobile clinic. Again, the social aspect of the project will be compelling to many individuals and organizations, prompting them to offer their help. Some common fundraising events include benefit dinners, charity runs, and auctions.
Online crowdfunding is another option that's commonly utilized for such purposes. Crowdfunding platforms offer the benefit of displaying your project to millions of people and allowing them to contribute in a convenient way.
Government funding
Local, state, and federal governments offer grants and other types of funding. In this instance, it's important to have all the documentation in order to align with their specific demands. Receiving funding from the government requires a meticulous approach and providing proof of high standards for your clinic's services.
The government has healthcare programs you can explore if your van is capable of executing vaccination or other types of preventative care campaigns. However, this will be valid once you finish the phase of creating a mobile healthcare van and your clinic is operational.
The vehicle
First and foremost, the van needs to fit your needs for space, making you consider its size above all other factors. The vehicle's space needs to be enough to accommodate the medical equipment and provide the staff with a satisfactory workspace.
When selecting a van, go for one that delivers better fuel efficiency to reduce operational costs. A van with good fuel efficiency will also leave a smaller environmental footprint which is always a positive you can add to your funding presentations.
Regarding design, choose a unit requiring fewer vehicle modifications to improve the project's cost-effectiveness. The van needs to be accessible to individuals with disabilities and be in compliance with the regulations surrounding accessibility. Make sure that the vehicle has the capacity to support the power requirements for lighting and electronic devices.
Once you select your ideal vehicle, equip the van with the necessary medical instruments and diagnostic equipment. Include emergency medical supplies and prepare for unforeseen situations with backup power sources and alternative communication devices.
Lastly, create a design with an adequate look to its exterior by adding branding and enhancing the vehicle's visibility. This will make it easy for patients to spot your van on the field, improving the accessibility to your services.
Summary
Mobile medical clinics bring healthcare services directly to patients from underserved communities. They can promote preventative care or address medical urgencies. Vans are versatile vehicles that are practical enough to be transformed into mobile healthcare units.
Arranging a medical van for mobility comes with challenges. Knowing how to set up a mobile medical van requires learning the regulations from the specific jurisdiction as well as adhering to the general standards. The vehicle needs to be adequately equipped and possess all the necessary licenses and permits to perform healthcare services.
Knowing how to set up mobile van operating to help those in need can shape a new outlook on healthcare services.