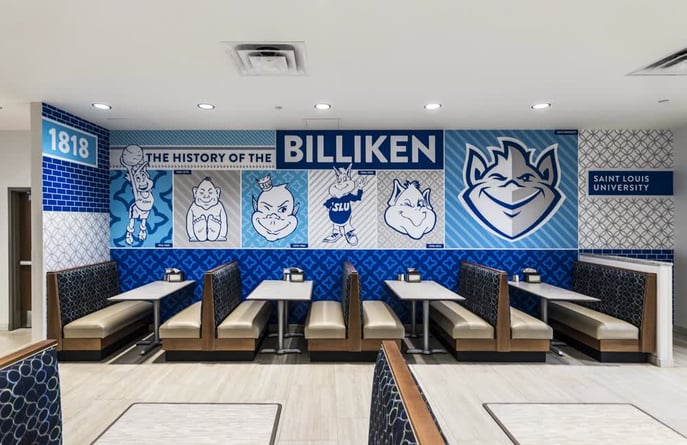 Decals are one of the easiest and most creative ways to spread brand awareness. Decals applied to vehicles, windows, walls, or even floors can become valuable advertising space. Custom decals are inexpensive, colorful, and professional.
What is a decal?
Decals are heavy-duty vinyl stickers. Like a sticker, they are made out of a durable material on which logos, text, and signage can be printed . Although many people use decals on glass, like storefront windows, decals adhere to almost any surface, including wood, metal, and plastic.
Decals are made from different types of vinyl material. Vinyl stickers and vinyl decals are slightly different, but that's a topic for another blog.
There are several different types of decals. Depending on the kind of vinyl, decals have varied applications and lifespans. The two most common vinyls used in producing decals are cast and calendared vinyl.
1. Cast vinyl
Manufacturers form cast vinyl by pouring liquid PVC into a mold, superheating it, and then stretching it into a film less than three millimeters thick. This complicated process means it's more expensive than other vinyls, but the cost comes with numerous benefits. Cast vinyl is the most durable and flexible vinyl. It also holds color exceptionally well. Because cast vinyl is made by superheating, it's also resistant to distortion from sun exposure.
Cast Vinyl Applications:
Custom vehicle wraps - because of cast vinyl's long lifespan (7+ years) and ability to mold around a car's shape, it is ideal for wrapping vehicles.
Corrugated surfaces - fences or the exterior of a building
Rounded surfaces - pillars and 3-dimensional signage
2. Calendared vinyl
Calendared vinyl is made by melting PVC. The resulting material is thinned out as it passes between many rollers. The final product is usually about four millimeters thick. Calendared vinyl doesn't have the same moldability as cast vinyl, but it's perfect for flat surfaces and signs. Because the manufacturing process is simple, calendared vinyl decals are very affordable.
Calendared Vinyl Applications:
Short to mid-term signage - lasts between three and seven years, depending on where it is located
Floor graphics - because these decals are thicker, they are much more resistant to scratching than cast vinyl decals
Custom office wall decals - calendared vinyl is ideal for indoor use on flat surfaces
Branching Out
Calendered and cast vinyl make up the majority of decals on cars, custom vinyl floor decals, advertising signage, and window graphics. However, other types of vinyl are worth knowing about. These will expand your decal palette, allowing you to get the perfect decal for your specific needs.
● Perforated Film Vinyl:
Perforated decals are an ingenious option that many people don't even know exists. A one-way graphic effect is created by adding a pattern of holes (perforations) to the vinyl. This alteration means that from one side it appears to be an image or text, and from the other side, a slightly tinted transparent window. Perforated decals allow business owners to cover their vehicle windows with graphics legally. Store windows are another popular place for perforated decals. Customers walking by see the sales promotion on your window graphics, but from inside the store, they merely see the street traffic outside.
● Wood Grain Vinyl:
You want your brand to stand out, while keeping up appearances. Typical bold color decals often don't go well on wooden surfaces. Wood grain vinyl appears exactly like real wood. If you have wood floors, walls, or doors, wood grain decals will allow you to brand your space without looking cheap.
● Carbon Fiber Vinyl:
This niche vinyl gives off the braided, metallic look of carbon fiber. It is perfect for decals on outdoor carbon fiber equipment such as kayaks, tech, or bikes. Lettering made out of this vinyl looks sleek and professional.
● Reflective Vinyl:
Not all decals are made for advertising and branding purposes. Another effective use of decals is for safety and direction. Reflective vinyls are perfect for marking outdoor steps, parking garages directions, and emergency exits. Since users can apply the vinyl to almost any surface, reflective vinyl is often used for custom floor decals.
Start Creating
Whatever project you are undertaking, whether it's branding a vehicle, looking for floor signage, or advertising a sale, vinyl decals are made to fit your needs. The best way to achieve your desired outcome is by finding out about the options available and investing in the type and quality of vinyl that aligns with your needs.
The team at Craftsmen Industries is always happy to answer any of your vinyl decal questions and offer advice. We help you stand out by offering unique types of vinyl and helping you think big in terms of colors, sizes, and shapes. The great thing about decals is that they are entirely customizable and an easy solution for every situation.