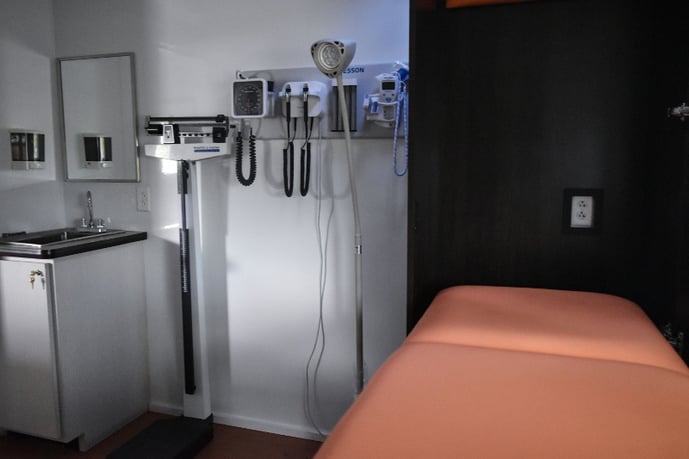 Mobile medical vehicles can go a long way toward helping underserved communities. Whether your medical business is new to mobile clinics or you are adding on to a current fleet, make sure that your vehicles are equipped with essential and accessible features to help ensure success.
As mobile clinics become more popular, trends and required features evolve. Keeping up on what features are helpful and necessary in a medical vehicle will keep your clinics running smoothly, bring in word-of-mouth referrals, and make sure your business stands out from the rest.
Essential Add-Ons
1. Dual-Entry Doors
Dual-entry doors help ensure a smooth visit experience for patients and medical staff. Safety and privacy should be imperative in any medical setting. Dual-entry doors can assist with both.
These doors will allow incoming patients to enter the vehicle without interacting with patients exiting. You'll find this saves time, enabling more patients to be seen and preventing traffic jams. It also cuts down on any cross-contamination between patients and helps protect anonymity.
2. Wheelchair Lift
Mobile medical vehicles should provide healthcare access to everyone. Adding a wheelchair lift or ADA-compliant wheelchair ramp to every medical vehicle is a no-brainer. There are many different options available. Cassette lifts can be folded up and stored away to save on space, while some lifts may be built into the vehicle body and can function with remote control.
3. Restroom
Another feature important to patients and staff members is a proper on-board restroom. Not only necessary for visiting patients, but medical staff may spend the entire day working on the mobile clinic and will need convenient facilities.
It is also vital for any medical environment to be kept as clean as possible. Medical tools, tables, and surfaces will also need to be washed or wiped down throughout the day. Staff and patients will need to be able to wash their hands periodically. Consider adding a specimen pass-through door to the lavatory for a clean, easy, and private way to collect samples.
4. Exam Table
With the smaller setting in a medical vehicle, you may think that an exam chair will work out just fine. There will likely be times, however, when you wish to have a patient lie down to be examined. Installing at least one proper exam table in your mobile clinic will ensure you are prepared for anything.
5. Ventilation System
In a medical setting, potentially dealing with unwell patients, you must have a sound ventilation system. A mobile medical vehicle is a small, enclosed space, and simply opening doors and windows does not provide patient privacy and will not be a proper solution in cold or bad weather. Invest in fans and vents for your mobile clinic to keep staff and patients comfortable and safe.
6. Reliable Internet
Reliable internet capabilities will keep your mobile clinic operating smoothly, keep records up to date, ensure patient privacy, and assist in emergencies. Depending on where your mobile medical vehicle ends up, connecting to the internet can help ensure safety in medical and vehicle emergencies.
7. Proper Lighting
Extra lighting is essential in any patient exam. The type of lighting you'll find in a van or truck will almost assuredly not be enough. Invest in lighting additions such as extra overhead lights and movable lights on arms.
8. Extra Storage
Proper storage space can often be overlooked but will be extremely important during daily operations. Not only do you need space to hold your wheelchair lift or ramp, but you will also need areas with easy access to put away medical equipment to keep the clinic clean and uncluttered.
Having equipment set loose and in sight looks very unprofessional and can result in an unsafe environment for patients and staff. When designing a mobile clinic, be sure to include storage compartments in every area of the vehicle.
9. Custom Exterior
The thought of entering a plain white van should give pause to anyone. The exterior design of your medical vehicles is another important feature not to be overlooked. Custom-designed vehicle fleet graphics can be printed onto vinyl wraps and easily attached to the body of your mobile clinics.
A custom vinyl wrap that clearly showcases your medical business logo and presents graphics and information about the services provided will put your patients and visitors at ease. Many patients feel an element of anxiety when visiting a medical professional, and making sure that the exterior and interior environment is cheerful and welcoming will be a big help. Investing in not only the interior features but also the exterior look adds an element of professionalism. A custom vehicle body is also an excellent marketing tool, working as a mobile billboard for your business.
An adequately equipped mobile medical vehicle can immensely help any community. When your medical business keeps up with necessary features and add-ons, it ensures you are providing safe and accessible mobile clinics. Be sure to check in periodically with both patients and staff for information on any oversights or additional recommendations.