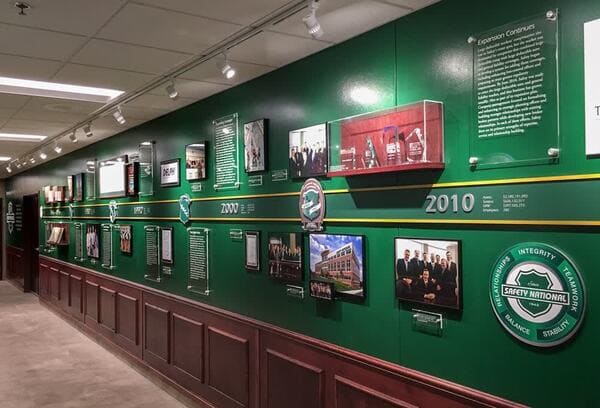 Quality signage is a vital marketing, as well as organizational, element for any business. Signs are important for many reasons, from physically directing visitors around a building to creating a great first impression and establishing a strong brand identity and recognition. But how do you make sure your business's signs are going to stand out from all of the others around them? Architectural signage may be just what your company needs.
Architectural signage can help improve the overall experience for your visitors. High-quality architectural signage will add both practicality and enhance your company's aesthetic. But what exactly is architectural signage? And why would you choose it over more common commercial signs? Let's take a look at what you should know about architectural signs and the advantages they can bring to your business.
1. What is Architectural Signage?
Architectural signage is the name given to the custom signage you find throughout a building or commercial space. It can be used for brand identification, as well as for giving wayfinding directions. What sets these signs apart is that they are designed specifically to blend with the architecture and design of a space. These signs enhance the professional appearance of your business and make it easier for visitors to navigate the area.
The art of architectural sign design will take into account all of the practical purposes of a sign, as well as the look and feel of the space where it will be placed. Every sign throughout the building should fit together cohesively, with matching materials, fonts, colors, graphics, and branding.
2. How Does Architectural Signage Differ from Commercial Signage?
Commercial signage is everywhere. Commercial signs are mass-produced, made at a lower cost, and not always made of the most durable materials. With commercial signage, you will see the same bright colors repeated. These are colors that have been chosen to grab a viewer's attention but do not necessarily correlate with a company's specific branding.
In comparison, architectural signage will be custom designed for your business and to fit in structurally with the space. Architectural signs are built from high-quality materials and are made to last. Many signage designers choose to use the same materials found throughout the building already in their designs so that your signs seamlessly fit in. Both exterior and interior signs will be made of durable materials and will represent your brand with appropriate color palettes, logos, and company-consistent fonts and graphics.
Architectural signage not only enhances the visual appearance of a building but adds a practical element as well. It is always frustrating trying to navigate a new building without adequate signage and directions posted. With custom-made architectural signage, your visitors will be able to easily follow wayfinding signs, as each set of directions will stand out without detracting from the style and ambiance of the building.
3. How Can Architectural Signage Benefit My Business?
A company's chosen signage can demonstrate a lot about its professionalism, attention to detail, and style. When a visitor arrives on site at a store or a commercial building, the signs are what make the first impression. Customers pay attention to whether materials fit in with a space, if the signs stand out or blend in with the others on the block, whether they look to be cheap or well-made, if the colors and fonts chosen match the business's recognizable branding, and whether there is an overarching cohesive appearance throughout. Great signage can elevate any space and make it look more professional.
Creating your company's architectural signage should go right along with choosing the right building, and with the interior and exterior design. Quality, well-made architectural signs will last a long time, and will end up being permanent additions to your space, enhancing it in both appearance and in utilitarian practicality.
Things to Keep in Mind
If you've decided architectural signage is in fact the best solution for your business's wayfinding and branding needs, there are a few things you should keep in mind. Signage created for exterior and interior locations will need to be made from different materials. There are also sign rules and regulations in place that you must follow.
Outdoor signs will need to be durable and able to withstand different weather conditions. You'll also want to consider materials that prevent glare from harsh sunlight, or your signs may be unreadable. You should also look for materials that will resist or prevent color fading.
For choosing indoor signage, take a look at the materials already in use in the building's design. If your company is housed in a very modern building with lots of steel and glass, you will not want signage that is traditional or dated. If you're in an older, antique building, an ultra-modern design would not fit in. If you happen to share a space or building with other companies, consider what they use for their own signage. You will want your business to stand out but not to look completely out of place. Take in to consideration if you want your signage to be temporary or permanent, this will also determine types of material.
Architectural signage plays a big role in a building's overall appearance and navigability. Consider consulting with professionals, such as Craftsmen, who can give you specific advice on materials, functionality, and design before you get started.